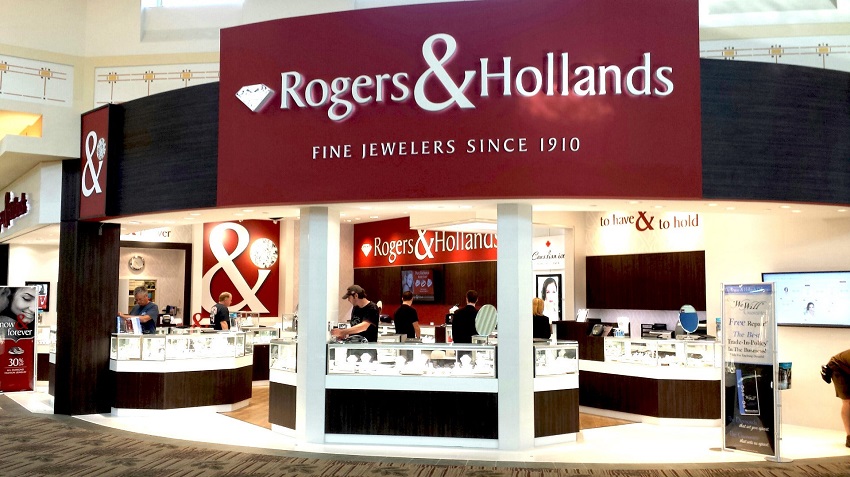 Diamond jewelry plays an important role in history; from world famous diamonds, record breaking auctions, royal gifts and celebrity rings, the history of diamonds is full and rich while comfortably holding an equally significant position in modern times.
We cherish history, and often proven experience from a vendor translates into a positive experience for the buyer. Over 100 years strong in the industry, Rogers and Hollands should be at the top of their game, however, as this guide review will show, there are many flaws in the Rogers and Hollands.
The History
Hollands jewelers was established in 1910. It was acquired by Rodgers jewelers and by the end of the 1970's, it already had over 15 stores across the USA. As one of the oldest jewelry chains in the states, Rogers and Hollands have grown their business and now have stores across ten states. In the early 2000's, Rogers and Hollands opened up a new branch of their business under the trade name Ashcroft and Oak. Despite the considerable number of stores, Rogers and Hollands have maintained a family run business, dodging any large buy-outs or further mergers.
They have their full history listed on their website and it truly makes for a fascinating read.
The Jewelry
Rogers and Hollands sell 'fine' diamond jewelry alongside lower priced gemstone items. This is not a cause for concern (after all, even industry giants Tiffany & Co continue to peddle out their sterling silver collections) but it does often indicate that you must look a little harder when it comes to material and gemstone quality.
I lightly suggest that some of their jewelry designs are a little gauche and dated, however in the interest of objectivity I commend Rogers and Hollands for offering a wide variety of unique styles. This imagination is carried into their engagement rings; however, this is where the positives begin to slow.
The Quality
A first glance at Rogers and Hollands engagements rings might have your eyes lit with excitement – interspersed between their 'better' rings, are low value engagement rings that seem like a bargain.
Take for example this highly unusual vintage-inspired black diamond ring. Your eyes see '1ct', a glowing rose gold setting and plenty of diamonds – all for $899.
But, let's dig a little deeper. The black diamonds are treated, which immediately decreases the value massively. The rose gold is 10 karat (I recommend 14k or 18k for fine jewelry and setting gemstones and diamonds) which again, brings the value and quality right down. The complimenting white diamonds are listed as being between a G-I in color (nothing wrong there) but an I2-I3 clarity. The beading and metal work is clumsy; pave and metal beading are intricate processes that are costly to achieve, so analysing them will often give you a measure of a jeweler's commitment to quality.
In short, the 'bargains' you see on Rogers and Hollands can be quickly broken down and show the true worth of the jewelry which, as it goes, is really very expensive for what it is.
The Diamonds
Rogers and Holland sell GIA diamonds alongside EGL diamonds which is a red flag. EGL certification is inferior, giving inaccurate and inflated grades that serve only to increase a company's profit margins. I am immediately sceptical of any vendor who offers sub-par certificates for such an important purchase.
Only The AGS and GIA offer reliable grading certificates for your diamonds. Furthermore, companies who give a keen focus to diamond quality will make sure you know about it. I suggest taking a look at Whiteflash and their A CUT ABOVE® in-house, super-ideal cut diamonds. In particular, take a look at the specifications; this is the level to precision you want from a vendor when you're buying a diamond.
Rogers and Holland pay little attention to the quality of their diamonds. You may find a nice GIA certified diamond if you know what you are looking for, but with so little focus on cut quality and specifications, you are likely to find yourself in a 'needle in a haystack' situation. The diamonds I have seen by Rogers and Holland are over 30% more expensive than their equivalents from reputable online vendors as well.
So, a catch 22. A diamond expert might be able to sift through Rogers and Hollands engagement rings and find a high-quality diamond, while a novice would struggle, but a diamond expert (or a knowledgeable buyer) simply wouldn't buy the diamonds at this price.
The Final Word
I have issues with Rogers and Holland from start to finish. The most concerning fact is regarding their diamond quality and certification, but poor customer service, 'budget' style low quality jewelry and a lack of attention to detail all come together to create a poor picture for this antiquated company.
I implore you to make your own comparisons with my recommended online retailers (James Allen, Blue Nile and Whiteflash to mention a few). Look beyond the low price tag and truly dig into the quality factors of Rogers and Holland jewelry; I promise you, once you see it, you will take your business elsewhere.