Verragio's distinctive and stand-out designs make them one of the most instantly recognisable brands in the world of bridal jewelry, and indeed, one of the most respected. Their intricate works span across a huge range of styles; from vintage to contemporary, Verragio produce high quality jewelry that bears their unique features and individuality. There is a sense of thought, sentimentality and personality running through their collections and their masterful designs are a breath of fresh air in a market saturated with generic settings.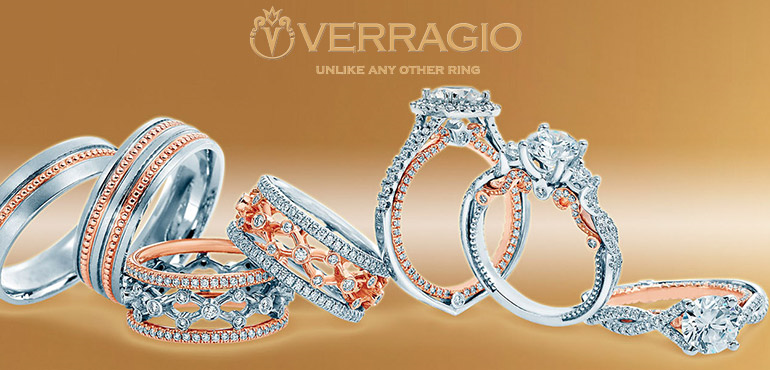 The History
Barry Verragio entered the world of jewelry as an apprentice to a master jeweller. Immediately hooked, he later honed his craft at the prestigious Fashion Institute of Technology in New York City. During his time at the Fashion Institute, he trained under some of the leaders in the world of jewelry, including Tiffany & Co's Maurice Galley. Under Maurice's expert guidance, Barry began to create and design bridal jewelry, and these early designs would be the foundations for the business we see today.
By the early 1990's, Barry had shown an exemplary flair as well as a keen eye for detail. He created his first ever engagement ring for his girlfriend – she said yes! The seed that had been sown years before was beginning to bloom, and Barry took the plunge into the world of bridal jewelry to make his mark upon this competitive industry.
Barry has pioneered multiple new techniques; his girlfriend's engagement ring used a unique setting technique known as Lumino; this setting effectively suspends the central diamond, allowing optimum light to flood the stone to enhance brilliance and fire.  
The Settings
Verragio settings are varied and unique, but each ring is unmistakably Verragio. The collections are defined by their construction, with each of the various parts of the engagement ring being given a signature feature that relates them to the collection.
The advantage of this is it makes the rings easy to personalise and tailor to the wearer; each of the individual parts can be made in white, yellow or rose gold. It is an elegant way of taking a masterfully-made setting, but adding your own personality to it.
The Couture Collection champions Verragio's trademark Lumina setting and a crown-shaped bezel. The collection pushes Verragio's passion for mixed metal-work, and combines their signature beading with sleek, clean cut designs.
The Insignia collection uses ornate scrolls and diamonds to draw attention to the head of the setting and central stone. Some bands in this collection also feature a woven design, and there is a feeling of fluidity throughout the collection.
The Parisian collection is all about vintage motifs and European style. This collection is also available in 14k, making it an excellent choice for those working to a more modest budget; all of the quality but at a lower cost.
The Venetian collection draws inspiration from the strong stylistic elements of Venetian culture. The rings in this collection each cut a striking side profile, and the lower part of the band is customisable up to five ways. Perhaps the most ornate of the collections, the Venetian designs are masterworks, expertly balancing complex design with ensuring the central stone is still the focus.
Men's Collection & Bridal Sets
Verragio also offer some incredibly unique wedding bands for men. These often adopt a two-tone metal effect and can be tailored for the wearer, and even customised to compliment the bride's engagement ring or wedding band.
Bridal sets are also available and worth considering, should you choose a Verragio engagement ring. The heavily stylised appearance of their engagement rings might make choosing a wedding band a little more complex; a bridal set is a good way of avoiding this.
Authenticity
Whenever a designer's work is a market success, knock-offs are inevitable. The issue is that the complexity of Verragio's designs are a result of decades of experience and technically skilled jewelry makers, who know the do's and don't of their art like the back of their hand. A fake simply cannot deliver the durability, nor the level of detail that Verragio rings possess.
I am not a sucker for designer, and always suggest to those looking for a simple engagement ring that a well-made, unbranded solitaire will deliver exactly the same results as one that bears the mark of Tiffany & Co (for example), the only difference will be the price tag. However, when it comes to the work of Verragio, it is a different story.
Avoid replicas and knock-offs. You will always pay a premium for designer jewelry, however in this instance I believe it is money well spent for unique designs and peace of mind.
Every Verragio ring is inscribed with the brand name on the inside (as seen in the image below).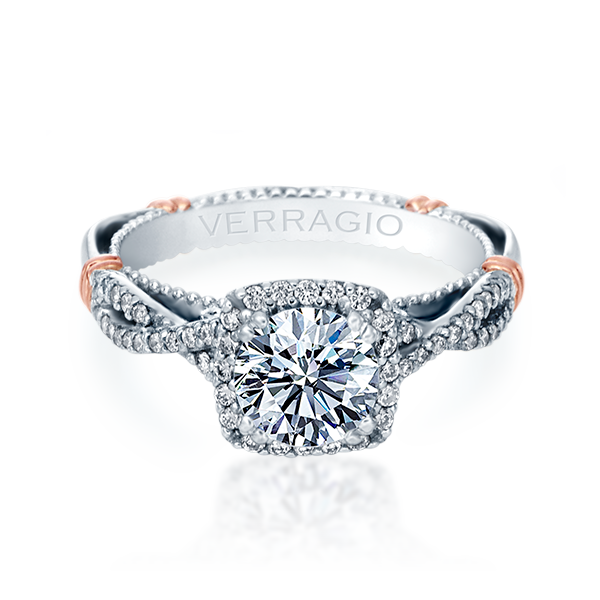 This is not a failsafe method when buying online. Laser marking rings is fairly simple, and many replicas may bear a similar mark.
The only way to ensure the ring is an authentic Verragio, is by purchasing their jewelry from a fully licensed retailer
If you are considering a Verragio ring, I recommend taking a look at Whiteflash. They are licensed retailers for Verragio, offering an impressive catalogue of designs at competitive prices. Any Verragio setting can be paired with a Whiteflash A CUT ABOVE® diamond – these are some of the best cut diamonds with the most sparkle and fire.
Verragio rings are only sold as mounts, i.e. without the central stone. Unfortunately, not all of Verragio's authorised retailers offer an equal service. Many of their retailers are bricks and mortar stores with limited loose diamonds that are usually of a lower quality but a higher price.
This is all the more reason to trust Whiteflash to help you select a beautiful central stone to complete these impressive designer mounts.
The Website

The Verragio website only serves as a 'window-shop'; it is not set up for e-commerce so their jewelry cannot be purchased from them directly. Nevertheless, what is there is clear and well presented and great so anyone looking to 'get a feel' for the Verragio brand, and really emphasizes the customisable aspect of their jewelry.
There is, however, a large push towards 'premium boutiques'. Verragio recommend certain bricks and mortar stores as the best place to shop for Verragio collections. I would ignore this, as it is likely these recommendations are only based on profit, and the boutiques that stock a higher number of Verragio mounts – you will ultimately find a better price, a bigger collection and a better diamond by shopping online at a trusted retailer such as Whiteflash. 
The Price
Verragio is the perfect example of why you pay more for a designer setting, and also the perfect example of when that premium is worth it. Their rings cannot be price compared to any others on the market as they are so incredibly unique. 
I judge the price of Verragio rings based on the skill and craftsmanship that has gone into them, plus the overall finish and individuality of their designs. With all things considered. These are highly affordable designer rings, that deliver all the things we expect from a piece of designer jewelry.
The Final Word
There is a definite 'love it or hate it' aspect to Verragio jewelry; these rings are distinctive and therefore will not be to everyone's taste. However, their popularity and continued respect within the industry would suggest many brides fall into the 'love it' category.
Expertly made, varied and unique, Verragio rings are everything that designer bridal jewelry should be. They deserve to be set with a beautiful diamond to compliment the hard work and detail that goes into each and every setting.