This article has mentions of products from one or more companies, and I may receive compensation if you purchase those products following reading my recommendations.
When cut correctly, the pear-shaped diamond is a thing of unique beauty. Unlike most other diamond cuts, the pear cut is asymmetrical, which is one of the unusual elements that makes this cut so flattering.
Flemish cutter, Lodewyk van Berquem of Bruges, is thought to have created the first pear cut diamond in the 1400's. This striking, modified brilliant cut is often thought of as a hybrid between a marquis cut and round brilliant cut, featuring the rounding at the bottom and an elongated, tapered top.
Finding the perfect pear cut requires a precise balance between personal preference, an excellent cut, and appropriate ratios. Some people prefer a sleek, elongated pear that more closely resembles its sister diamond cut the marquis, while others like the softness of a curvier pear cut. Whatever your preference, getting the best-looking diamond is all about finding the best cut quality and color and clarity gradings possible.
If you are in the market for a pear cut diamond, brace yourself for an exhilarating but perhaps lengthy search; a perfectly executed pear is a rare beauty, so it is essential that you dedicate the necessary time to online inventories to separate the duds from the dazzlers. Do not be disheartened, for though the search may be longer the rewards are surely worth it.
This guide will consider the optimum grades for a pear cut, while still covering the more complex matters of personal taste and practicality. By the end, you will be ready to take the first steps towards discovering the perfect pear cut diamond for your engagement ring.
Cut
Like many fancy cuts, there are no strict parameters when it comes to the cutting proportions of a pear cut diamond. The GIA will only offer a grading for the polish and symmetry of a pear cut diamond; aim for Very Good or Excellent for the best results.
As a basic guideline, I would recommend looking for pear cuts that have a depth and table of under 66%. Beyond this, it is a question of optimum ratios and critical assessment by eye.
Ratios for a Pear Cut Diamond 
Consider the length to width ratio a starting guideline when it comes to understanding the balance and shape of a pear cut diamond. The length to width ratio is calculated by dividing the length of the diamond by the width. The ratio is not provided by the GIA, but the measurements to calculate it yourself will be. Furthermore, most online vendors will also provide you with the ratio.
If you're looking for a large selection of pear cut diamonds I would recommend James Allen or Blue Nile. If you want something more traditional like a round cut or princess cut diamond then Whiteflash should be your first port of call. They now also stock a number of quality lab created diamonds.
James Allen Pear Cut Diamond Ratio Example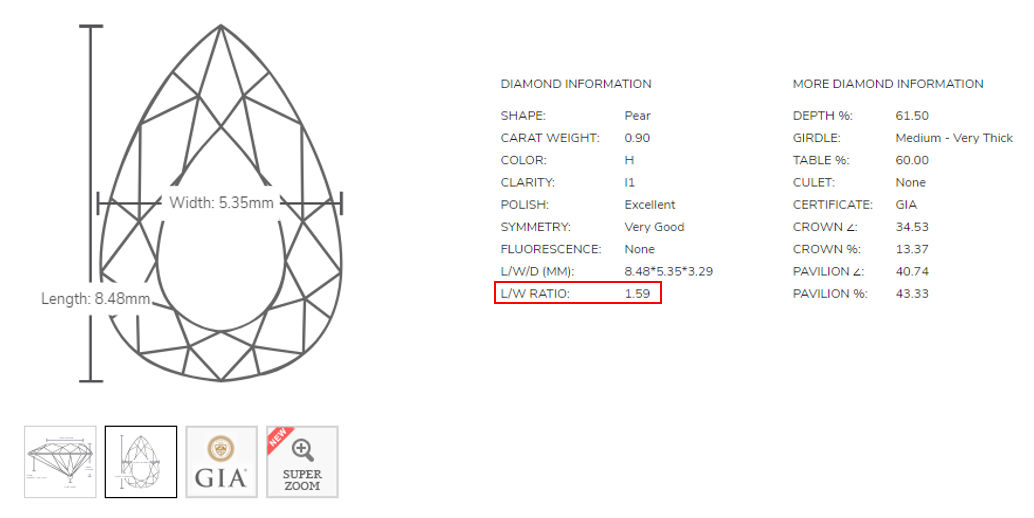 This example from the James Allen website shows the specific measurements of the diamond and a length to width ratio. This information is provided for all of their pear cut diamonds. Do not waste time with vendors who do not offer transparency on this data.
The most popular ratios for a pear cut diamond fall somewhere between 1.55 and 1.75.
Pear Cut Diamond Ratios
Image from Lauren B Jewelry
As you can see a ratio of 1.4 gives a heavier, curvier appearance, while a ratio of 2.0 looks overly elongated. My personal preference is a pear cut around the 1.75, perhaps even 1.8 as I like the elegance of a slimmer stone. But my preference will mean very little when it comes to making your decision, and simply serves to demonstrate what a personal thing selecting a diamond can be.
I would avoid ratios below 1.5 and above 1.95, as the stone begins to look unbalanced.
Aesthetics of a Pear Cut Diamond
Once you have mastered the magic of ratios, it is time to consider the other aesthetic elements of a pear cut diamond. While ratios are certainly an important part of assessing your pear cut diamond, even a stone with good ratios can have other aesthetic flaws.
The asymmetrical silhouette of a pear cut diamond can greatly vary from stone to stone. There are various ways in which a pear cut diamond can be misshapen.
The best way to build an idea of your preferences is to look at the extreme examples of misshaped pears and find a balance that suits your needs. For example, a triangular pear shape is an example of a misshapen pear, but a diamond with just a slightly flatter back than usual may be preferable to some buyers.  Overall, you should aim for something as close to the 'classic' teardrop shape as possible; one that is well proportioned and features the soft, half-crescent back and a gradual slimming towards a pointed tip.
Triangular/Flat-Back Pears
A flack-back pear will not have the desired semi-circle curve at the bottom of the diamond. This pear cut diamond is a subtle but identifiable example of a flat-back pear, as it does not carry the beautiful oval bottom half and instead has a flatter line.
Triangular pears are a more extreme example of this; they will have a flat back and slightly rounded corners giving the diamond a triangular silhouette as opposed to the desired, teardrop shape.
Overly Curvy Pear
This pear cut has a ratio of 1.57 which falls perfectly within boundaries of a balanced and proportioned pear. However, you will notice that it lacks the gradual slimming from the curved back to the top point. The result is a diamond that looks overly curvy and wide and lacks the flattering finesse of a well-proportioned pear.
 The Bow-Tie Effect
The bow-tie effect describes a dark shadow that casts across the diamond in the shape of a bow tie. A prominent bow-tie shadow will greatly diminish the sparkle and brilliance of a pear cut diamond and is another example of why it is vital that you view the diamond in the best possible conditions (i.e. high-res imaging) before buying. Above you can see a beautifully proportioned pear that is inhibited by the bow tie effect. Look for diamonds that do not carry this flaw.
 Badly Proportioned (General)
The diamonds above are further examples of pear cuts that are just not appealing to the eye. The first is a beautifully clear diamond, but the rounded section of the diamond does not have the undulating curve and the sides are too wide. It creates the illusion of the diamond slimming into a point without symmetry on either side and looks wonky. The second is an example of an overly curvy pear with a slightly flat back making the diamond look stubby.
There are lots of ways that the tiniest of changes can drastically alter the appearance of a pear cut and this is why viewing the diamond is so essential.
Color
A pear cut diamond naturally retains more color than other stones (such as a round brilliant). It is a little less forgiving so you should narrow your search to a grade that falls within the GIA 'near colorless' bracket, which is anything from a G-I. If you are naturally sensitive to color (some people can identify yellow hues much easier than others) or if you are setting your center stone with larger accent diamonds, I would recommend a G.
For most, an H in color is a great balance between a colorless looking stone and a good price point, particularly if you are opting for a solitaire or a ring with colored side stones.
If you are looking for a little more movement in your budget and are choosing a warmer setting (such as yellow or rose gold) a J color diamond can look colorless, and the price will come in a great deal lower than a G color grade.
Clarity
A pear cut diamond is a strong cut for concealing conclusions. The faceting pattern allows inclusions to be easily concealed around the outermost parts of the diamond.
It is possible to find a stunning SI1 clarity stone with no visible inclusions and I would recommend beginning your search here.
An SI1 pear cut with no visible inclusions
The higher you go with clarity, the bigger leaps you will see in price so it is worth searching closely within the SI1 category as this could save you thousands. Look for vendors such as James Allen and Blue Nile who offer high res imaging of the diamond as this can be invaluable when it comes to spotting unfortunately positioned inclusions. 
One thing to be cautious of is any inclusions too close to the point of the diamond, as this can compromise durability and make the diamond more prone to chipping.
Choosing the Best Pear Cut Engagement Ring
Beyond sharing my knowledge and experience of diamonds, one of my greatest pleasures is guiding buyers through the boundless world of designs and settings.
I have selected some of my favorite examples of stunning pear cuts in exceptional settings to kick-start your search, but if the materials and craftsmanship are of the highest quality (see Whiteflash for their portfolio of world-class designer rings) there are no rules when it comes to setting a pear cut diamond.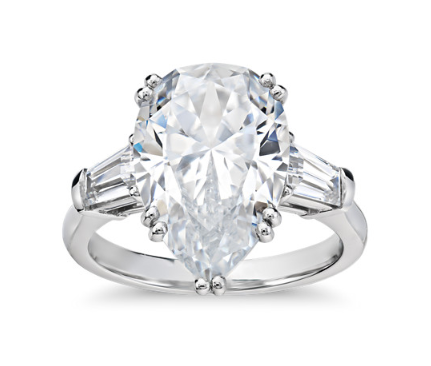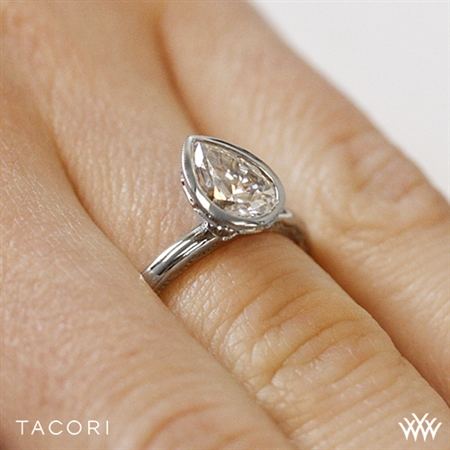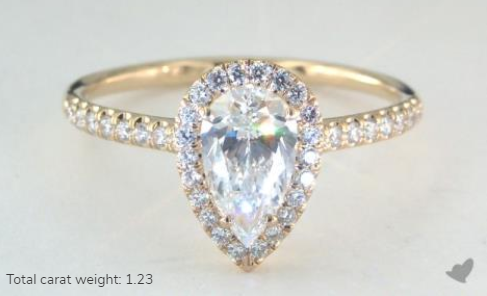 A halo is the perfect way to emphasize the unique shape of a pear cut diamond while enabling you to add additional sparkle to your engagement ring. Finished on a diamond half eternity band, this ring from James Allen also shows the beauty of a striking white pear cut against the warmth of a yellow gold setting.
And Finally…
A pear cut diamond must be seen, for their unique characteristics and aesthetics cannot be defined or determined through proportions and certifications alone. I recommend James Allen as the first step on your path to pear cut success, however Blue Nile and Whiteflash should also be considered as their inventory of pear cut diamonds and the quality of their photography is superb. Beyond this, it is all about trusting your eyes and finding the perfectly proportioned pear that will complete your engagement ring.