This article has mentions of products from one or more companies, and I may receive compensation if you purchase those products following reading my recommendations.
A quality 4 carat diamond is a rare beauty indeed. Happen upon a stunning diamond of this weight and it is likely to capture your heart. Significantly heavier than the average engagement ring (which is around 1.00ct), a 4-carat diamond ring has all the impact and intrigue that we so covet in diamond jewelry.
As carat weight increases, the guidelines on what to look for change a little. This guide will cover everything you need to know to find the 4-carat diamond of your dreams.
How Big is a 4 Carat Diamond?
The perceived 'size' of a 4-carat diamond is dependent upon cut quality and the diamond shape. A good cut results in a balanced diamond, with every facet working to its full potential for maximum sparkle.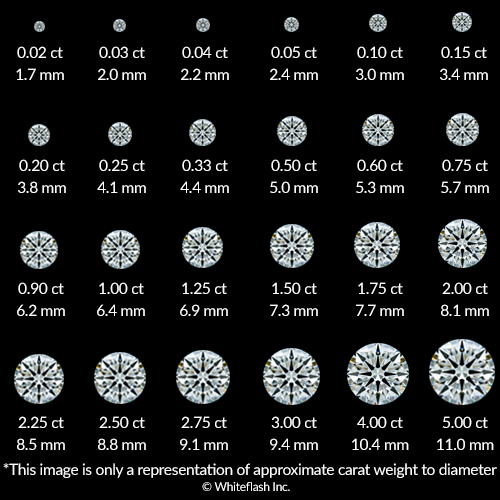 A 4-carat round brilliant diamond is around 10mm in size. At this weight, a diamond is likely to be prominent on the hand, turning heads with its brilliance. You will find measurements for a certified diamond on the diamond certificate allowing you to ascertain an accurate idea of size. Elongated shapes such as oval and marquise will give a bigger 'face up' appearance than other diamond shapes of equivalent carat weight.
If size is a leading factor in your search, remember that halo settings can increase the impact of a diamond.
How Much is a 4 Carat Diamond Ring?
An absolute minimum spend for a diamond of this weight would be $70,000, with the best diamonds hitting around $80k and above.
Unless you are one of the rare 'money is no object' buyers, it is likely your search will be governed by a budget. I commend this attitude. Setting a firm budget is the best way to find a diamond that is perfect for you, without having a bitter taste left in your mouth from over-spending.
This gorgeous 084ct H-VS2 round brilliant is part of the A CUT ABOVE® collection of super-ideal cut diamonds by Whiteflash. Eye-clean, optically brilliant and desperately sparkly it is a knock-out diamond.

Hearts & Arrows
AGS certified
Eye clean
Super-ideal cut
Price: $87,603
A bright and brilliant 10ct H-VS2 round brilliant by James Allen that would be a welcome addition to any engagement ring.

GIA certified
Eye clean
Hearts & Arrows
Super-ideal cut
Price: $72,010
The difference in price emphasizes the importance of cut quality. The superior cut of the Whiteflash diamond would result in an unrivaled fire, brilliance and scintillation compared to the James Allen diamond.
Using the Four C's to Buy a 4 Carat Diamond
When working with substantial prices, it is still crucial to understand how using the four c's can help you stay within budget. Don't over-spend on a quality that simply cannot be appreciated by eye.
Color
Color is greatly subjective. You may find yourself sensitive to color and thus needing a higher grade. For 4 carat brilliants I recommend a G-H in color and for step cuts an F-G is suitable. Step cuts are less adept at concealing color as brilliant cuts, but within these grades, your 4-carat diamond will give a bright white sparkle.
Clarity
Clarity assesses the amount of inclusions (internal) and blemishes (external) in a diamond. Although very common, the positioning and severity of inclusions can impact a diamond's light return and, in some cases, affect durability. A VS2 clarity grade is the best place to start your search – websites such as Whiteflash will tell you if the diamond is 'eye-clean' meaning there are no inclusions visible to the naked eye. A wonderful tool to simplify your search.
Cut
What a tragedy it would be for a 4-carat diamond to suffer a poor cut. Cut is king and it is essential that great care is taken in choosing a diamond with the best possible cut. Unleash the full fire and brilliance by choosing the best cut you can afford with a GIA or AGS certification.
A step beyond…experience diamonds in their full glory by choosing a super-ideal cut. Designed and perfected for optical symmetry and light performance, a super-ideal cut diamond represents the best of the best. Take a look at the A CUT ABOVE® range by Whiteflash. If you're looking for fancy shapes, then visit either Blue Nile or James Allen.
Where Can I Buy a 4 Carat Diamond Ring?
Quality 4 carat diamonds are extremely hard to come by and for diamonds of this size light performance and cut quality is imperative so I would recommend Whiteflash and  their A CUT ABOVE® Diamonds. If you're looking for a fancy shaped diamond then try Blue Nile and James Allen.
I also recommend these vendors because they offer quality settings. A 4-carat diamond must be securely set (ideally with at least 6 prongs or a bezel setting) to give peace of mind to the wearer and minimize risk of damage and loss.
Most of all, enjoy the process. I have helped thousands of diamond lovers find the ring of their dreams. Contact me for any advice and together we can find the perfect 4 carat diamond.