This article has mentions of products from one or more companies, and I may receive compensation if you purchase those products following reading my recommendations.
Whiteflash houses one of the biggest 'in-stock' inventories of any online diamond retailer. Its emphasis is on the Four Cs, and in particular, the cut of its diamonds. Working closely with a team of experts, Whiteflash adheres to the quality standards of internationally recognized diamond institutes such as AGS, GIA and IGI.
Whiteflash provides extensive technical data with regards to the cut of its diamonds and, in doing so, set itself apart with impressive standards.
Blue Nile may have pioneered the initial boom in the way we buy diamonds online, but Whiteflash closely blazed its trail, bettering many of the once unique features offered by its competitors. With a near flawless reputation and a consistently returning client base, Whiteflash raised the bar of luxury online branding and customer service, and has continued to deliver seamless standard since the year of 2000.
The History
With its roots sown in Houston, Texas, Whiteflash has built a solid reputation through its drive for the highest standards. Its greatest achievement and contribution to the world of diamonds are found in its signature line A CUT ABOVE® Super Ideal stones. This cut of stone is masterful and technical, and is widely recognized as one of the most exceptional cuts of diamond, offering the greatest light return and Hearts and Arrows formation.
Whiteflash's success does not rest solely on this signature cut, but also through its continued pursuit of white gloves customer service and detailed technical advice that has found itself to be a top choice for buyers.
How it Works
Whiteflash has a large drive towards designer engagement rings and settings. From what I can see on the website, Whiteflash carries a whopping eight designers:
At the time of writing this review, both James Allen and Blue Nile only carries five designers each.
In this instance, it's not only just the quantity game but the quality too. Simply put, Whiteflash is the only one out of the three online jewelers that carries the top four designers in the world – Tacori, Simon G, Ritani and A.Jaffe. The designers on James Allen and Blue Nile rosters are great too, but they are just smaller and less-known designers.
This means that Whiteflash is simply one the largest jewelers offering an array of settings, styles, and choices online. Whether you're looking for a typical American style with heavy use of beading, embellishment and side stones, European elaborate vintage look, or modern petite look, Whiteflash got you covered.
Nevertheless, Whiteflash boasts one of the largest inventories of AGS Ideal and Super Ideal Cut round brilliant and princess cut stones, which should be all about when it comes to buying diamonds.
The advantage of in-house stock is the assurance that Whiteflash's experts have assessed the diamonds before they are sent. This step can often be missed with other online traders, who may opt to ship straight from vendor to client, without a thorough examination of the stone in question.
Using the website
Quality and choice should always be championed when buying a diamond online; however, website comprehension is also key in the buying experience. This is where Whiteflash falls behind some of its competitors.
While the same basic principles of filter and search options are applied, the website does not have the same cohesive feel of the James Allen website.
If my memory serves me correctly, Whiteflash updated its website to a responsive one not too long ago following their customers' feedbacks and reviews, and I can see constant improvements since then. Whiteflash may be fall short on the filter and search options, but I believe it will quickly catching up with James Allen and Blue Nile, and potentially surpassing these two sites one day. One key thing you have to remember is that Whiteflash is a premium brand and its target audience differs from Blue Nile and James Allen, and its website design reflects so.
When you have chosen the stone, the importance of cut to the Whiteflash experts is immediately evident, with detailed images of the diamond beneath UV lights and under a microscope. While this undoubtedly offers an impression of the fire and brilliance you can expect within the diamond. It is yet another example of Whiteflash's explicit attention to quality and detail. The light performance images demonstrate the superior quality of its diamonds.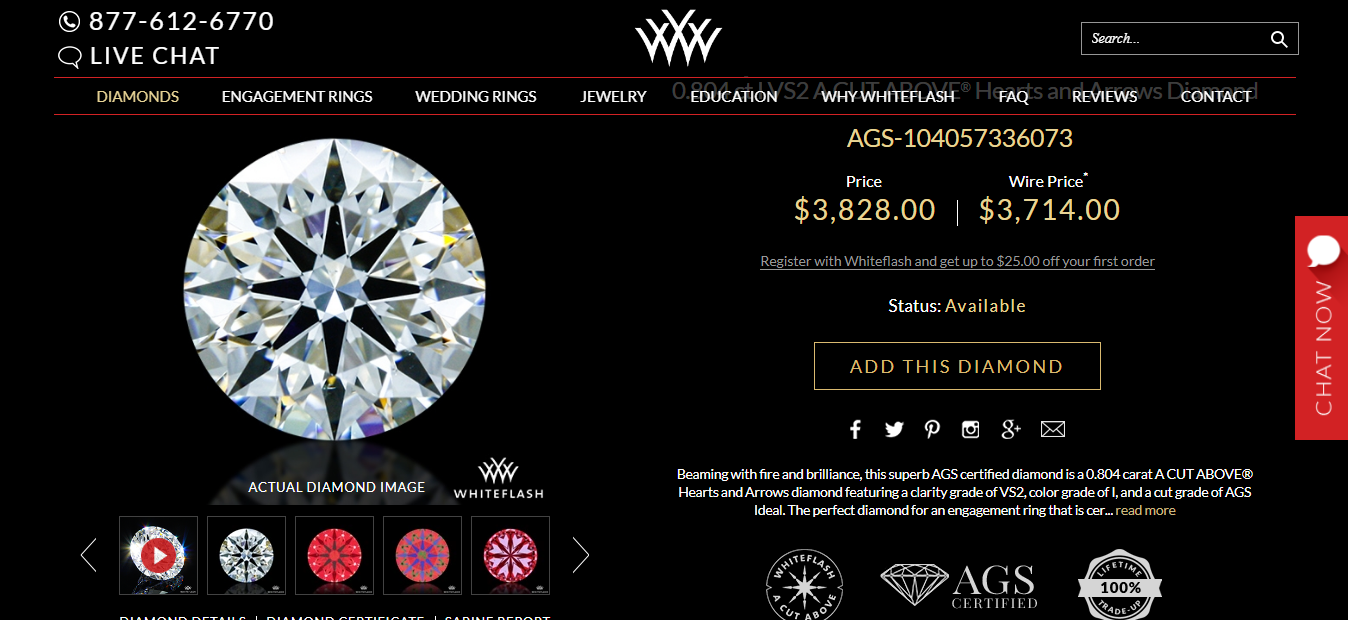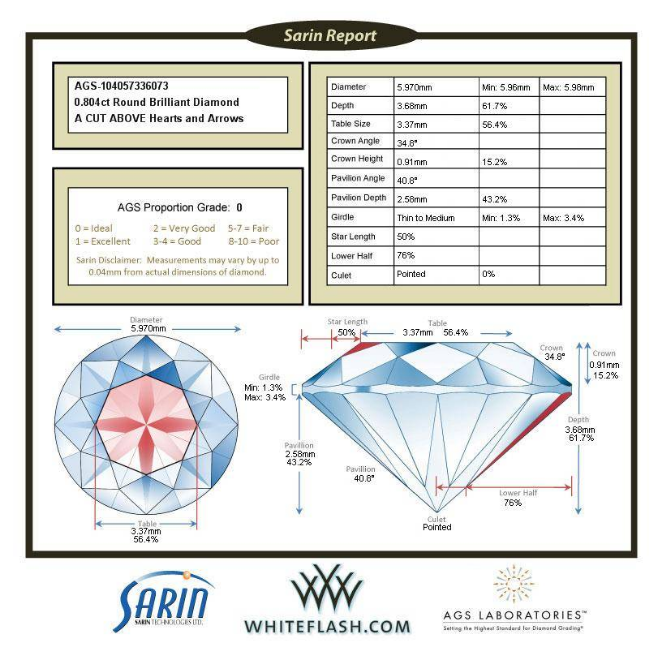 Whiteflash also provides the 360° videos of your chosen diamonds and all the technical data, such as extensive document and certifications that will come with the diamond. These detailed reports allow for an accurate side-by-side comparison with its competitors.
Customer Education
Whether you're a beginner or diamond geek or anyone in between, Whiteflash's Diamond Education Center has every article targeting at everyone. All of its articles are written by gemologists who have over 30 years of experience and teachers. If you must, bookmark the page and study there soon you will, too, come an expert.
It's true that all diamond or jewelry merchants have an Education section, but if you compare the level of expertise with Whiteflash's, you'll definitely see the difference.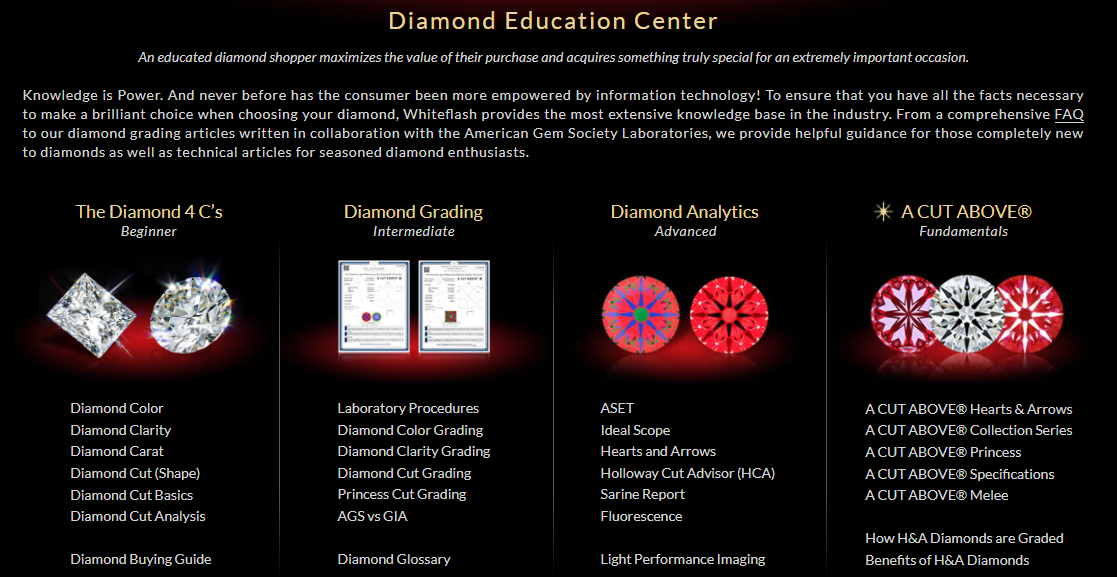 The Diamonds
When looking at Whiteflash, it is important to think of the company in a more 'traditional' sense in terms of its online retail position. The advantage of this is the guarantee that its diamonds have been approved by its experts, and will undoubtedly be of an excellent standard.
Wrapping your head around the many terminologies, stamps, watermarks and technical imagery can make the process feel a little overwhelming. The diamond world can be dazzling complicated as it is, and it is the job of the online experts like Whiteflash and myself to present the experience with as much clarity and ease as possible. This is more than compensated for with its exceptional customer service which is provided by both telephone and live chat options. Education is key in the world of diamonds, and it is evident from Whiteflash's offerings that its desire is to empower the buyers with facts in order to prove its premium diamond selections.
Lab-Grown Diamonds
Previously, Whiteflash only dealt in natural diamonds, and so if you wanted lab-grown, you had to go to either James Allen or Brilliant Earth. However, now they've begun to sell a small, and very carefully vetted, inventory of incredibly fine lab-grown diamonds. 
As Whiteflash are true experts when it comes to evaluating quality and light performance, they've only chosen diamonds that they know will bring about the greatest fire and sparkle. Each of the lab-grown diamonds they've chosen are certified Hearts and Arrows Ideal Cut, and sit at the high-end of the diamond color scale, within the range D-G. Clarity-wise, expect each diamond to sit around VS1 to VVS1.
In today's market, lab-grown, or synthetic, diamonds are becoming more and more popular, so it is good to see Whiteflash adapting to a consumer trend. There can be a certain elitism when it comes to comparing natural and synthetic diamonds. Evidently, there are distinct advantages to buying natural, but lab-grown diamonds represent an accessibility to the world of diamonds that wasn't necessarily present before. 
Lab-grown diamonds are far superior to diamond simulants, such as cubic zirconias or moissanite, because, at the end of the day, they're chemically identical to natural diamonds. The only difference is how they come into being. 
Plus, if you're buying a lab-grown diamond, you know that you'll be able to get a larger diamond for the same amount as what you would spend on a natural diamond. The massive benefit here is that, with Whiteflash, you know what you're going to get will be visually stunning, as Whiteflash's offerings represent some of the finest diamonds on the market, a reality that will stretch over into their new range of lab-grown diamonds.
A CUT ABOVE®
Whiteflash is known for its A CUT ABOVE® Super Ideal Cut diamonds. These stones are considered to be of world-class and super ideal cut, and Whiteflash uses stringent procedures to ensure only the finest diamonds make the grade. The stones are renowned for their perfect Hearts and Arrows formation, allowing for the greatest light return.

This is where Whiteflash truly set itself apart; its passion and belief in this cut is presented in great detail across its website. The lab reports, technical data, and images it provides for each stone are the same as those used by its expert gemologists. The transparency of this shows Whiteflash's confidence and honesty within the world of diamond retail.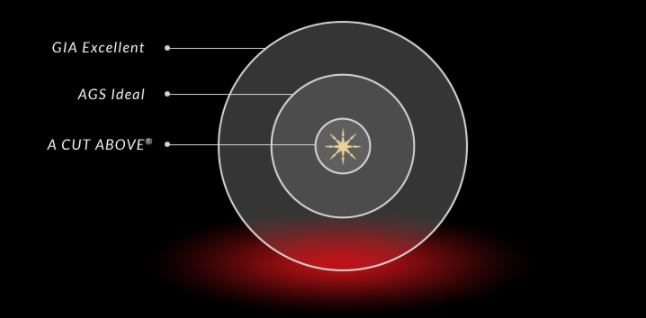 To simplify, this is where A CUT ABOVE® diamond would be placed, relative to AGS and GIA premium cuts. The small bracket demonstrates the standard that Whiteflash strives for in its offerings.
Whiteflash's approach is entirely unforgiving, and only the most precise and masterful cuts are allowed the title of A CUT ABOVE®. While an excellent attribute to have with any diamond, its heavy push on in-house stones leaves little room for exploring other elements of the stone.
The technical data is void without an in-depth understanding of its relevance. Education when buying a diamond is essential, but buying from Whiteflash may involve more study time than one is willing to give.
Services
It is clear from its selection of services that Whiteflash prides itself on customer satisfaction as well as return businesses. It offers international shipping, complimentary ring sizing and money back guarantee among a host of other buyback and upgrade options. Whiteflash is creating a foothold in return business by keeping its buyers close.
Through my research on diamond upgrades or trade-up schemes, Whiteflash seems to have the best upgrade policy compared to other major jewelers, including Tiffany's, with its simple and straightforward approach. With Whiteflash you need not buy a more expensive diamond - may that be increase in carat, clarity or size, while other jewelers will require you to purchase at least 50% more expensive diamonds - to qualify the upgrade scheme.
The Final Word
If you are an old hand at buying jewelry, Whiteflash will certainly appeal to you. Real thought has been put into presenting the cold, hard scientific facts to the buyers. In the same breath, if you have absolutely no experience in buying jewelry, you will still be impressed by Whiteflash's offers, guarantees and endless badges and certifications that feature across its website.
It is worth taking the time to familiarize yourself with Whiteflash's A CUT ABOVE® line, as well as its other exceptional in-house cuts. The diamonds really are some of the best that can be found in online retail.
If you manage to cut through the technical jargon (or indeed, learn its value), and choose to buy from Whiteflash, the diamond itself will dazzle with a sparkle like no other. Whiteflash has undoubtedly set a new standard in its honesty, integrity, and quality within the world of diamonds. Do also read my reviews on James Allen and Blue Nile.
Whiteflash FAQs
1
How does Whiteflash's customer service compare to other diamond retailers?
Whiteflash is known for its excellent customer service and helpful staff. All their staff are GIA trained and promote an educational and relaxed buying process. No pushy sales people here.
2
Does Whiteflash provide laboratory certification for their diamonds?
Yes, all Whiteflash diamonds come with a GIA, IGI or AGS laboratory certification.
3
What type of payment methods does Whiteflash accept?
Whiteflash accepts all major credit cards, PayPal, and bank wire transfers.
4
Does Whiteflash offer any returns or exchanges?
Yes, Whiteflash offers a 30-day money-back guarantee and free exchanges and returns.
5
Does Whiteflash have any special shipping or delivery policies?
Whiteflash offers free insured shipping, as well as express delivery options. Many diamonds and settings can be shipped same day.
6
Does Whiteflash sell lab grown diamonds?
Yes, Whiteflash sells round and princess cut lab diamonds which are cut to the strictest parameters to produce the maximum fire and brilliance.