This article has mentions of products from one or more companies, and I may receive compensation if you purchase those products following reading my recommendations.
Princess cut diamonds are adored for their versatility in jewelry settings, and the impressive brilliance that they offer. They are by far the most popular fancy cut diamond and of all the square cuts, they come the closest to delivering the fire, scintillation, and brilliance of a round diamond.
The princess cut is believed to have been conceived in 1980 by Betzalel Ambar and Israel Itzkowitz, though some reports of princess cuts have been dated to the 1960's. This makes it a relatively modern cut, sprung from its predecessor the French cut.
French Cut Diamond
Image from GemConcepts
The French Cut features just 18-24 facets in total, while the modern princess cut features either 57 or 76 facets. The large, wide facets of a French cut would have looked spectacular in the soft candlelight of the 14th century, while the multifaceted princess cut is designed to dazzle under modern lighting conditions.
You may hear a princess cut referred to as a 'square modified brilliant' due to the comparisons that can be drawn between a princess and a round brilliant. While it is true that a princess cut offers impressive brilliance, the faceting, and chevron patterning is entirely unique and very different from a round brilliant.
This is a modern cut with roots that tangle with the rich histories of diamond cutting. If you are in the market for a princess cut diamond, let this guide assist you in your endeavors so you can be sure you are getting the most from this stunning, contemporary stone.
How Much is a Princess Cut Diamond?
Diamonds are priced per carat, and Princess cut diamonds are comparatively cheaper than their popular counterpart - the round brilliant.
This price difference begins with the rough stone. A rough diamond is an octahedron shape like this image below.
Rough Diamond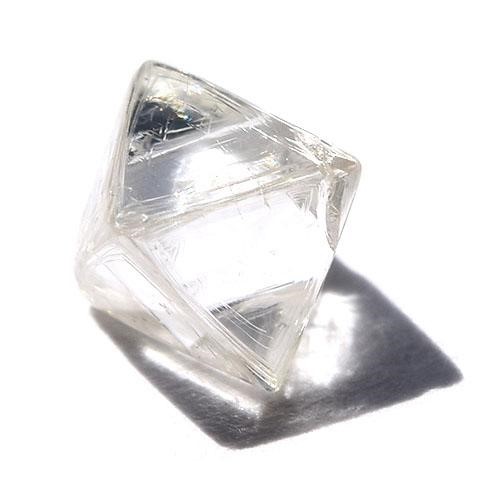 Image from The Raw Stone
The pyramid shape of a princess cut diamond naturally fits with one half of the octahedron, meaning a skilled cutter can easily produce two princess cut diamonds from a rough stone with very little waste. This is referred to as the diamond 'yield'.
For example, a round brilliant will usually only retain 40% of the original weight of the rough diamond, meaning a one carat rough stone would yield a 0.40ct round brilliant, whereas a princess cut can yield anywhere from 60%-90%.
The lack of waste lowers the price of the stone. It also means that most princess diamonds will be cut from a well-formed, rough diamond as these as the stones that form the crystal octahedron. They have less inclusions and imperfections, meaning there are fewer princess cut diamonds carrying a low clarity grade.
The final price of your princess cut diamond will be determined by the cut, color and clarity.
The Cut
There is no definitive set of cut parameters for a princess cut diamond, however the table below outlines the most widely accepted specifications.
The GIA recommendations for a round brilliant are very specific; however, when it comes to a princess cut diamond they will only offer a grade for the polish and symmetry. AGSL does offer a cut grade on princess cut diamonds, making it a little easier to understand the true quality of your stone before buying.
There are very few princess cut diamonds with a cut grading of Ideal on the market. This is because they are cut to fit the rough, as oppose to round brilliants which follow a strict set of cut parameters regardless of the shape of the rough diamond.
For the best of the best, Whiteflash's A CUT ABOVE® Princess diamonds are streets ahead of their competitors. To be considered an A CUT ABOVE® diamond, the stone must carry an AGS triple zero rating as a minimum requirement. They are some of the most intensely assessed, and subsequently most beautifully cut diamonds on the market.
The Color
Princess cut diamonds offer an impressive level of brilliance, however it is still lower than that of a round brilliant. For this reason, princess cut diamonds do not mask the color of the diamond quite as effectively.
Color grading of G-J are considered 'near colorless' by the GIA. I would suggest an H in color if you intend to set your diamond in a white metal, and an I in color if it will sit in a warmer setting (rose or yellow gold).
It can be difficult, if not impossible, to distinguish between two color grades just by eye, however some people are naturally more sensitive when it comes to the color of their diamond. The most important thing is that you view the diamond within your intended setting and see which color is best for you.
If you are working with a more flexible budget, I would still recommend going no higher than a G. Anything beyond this will cost a great deal more and you simply will not see a difference.
The Clarity
Usually when I advise on clarity, it is simply a matter of what the eye can see. When it comes to princess cut diamonds, there is also a question of durability when choosing a clarity grade for your diamond.
The four corners of a princess cut diamond make it more prone to chipping. Should an inclusion be positioned near one of the corners, the chances of the diamond chipping greatly increases as the structure of the stone is compromised in an already weaker area.
There are also very few SI1 and SI1 princess cut diamonds on the market, as princess cut diamonds are cut from a higher quality rough.
Look for a VS1 or VS2 clarity and be sure you establish the position of the inclusions before you make your decision. This is easily done using the high-res imaging offered by vendors such as James Allen and Whiteflash, or by looking at the diamond inclusion map included in the certification.
GIA Certificate on Clarity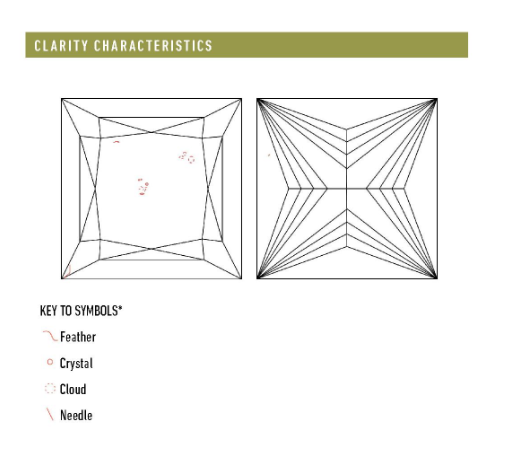 The position of the inclusions will make a big difference to the beauty of the stone – as we can see here in this SI1 the inclusions are highly visible and one of them are close to the corners of the diamond.
Choosing a VS1 – VS2 clarity will eliminate diamonds with such obvious imperfections and allow you to focus on the durability of the stone.
Choosing a Setting
I am not in the habit of steering people too strictly when it comes to settings; once you have found your perfect diamond, selecting a beautifully designed setting is truly one of the pleasures in buying jewelry. I must, however, offer some advice when it comes to a claw setting for your princess cut diamond.
In the past I have seen brides-to-be and partners asking for the claws of their setting to be shortened or shaved down. Smaller claws make the diamond look larger as more of its surface is presented.
With a princess cut diamond it is essential that the corners of the diamond are protected, meaning a setting with a more substantial claw is the best way to secure your jewelry (this is especially important in any diamonds weighing 1.00ct or above).
This beautiful white gold setting from Vatche shows how a stunningly simple solitaire can still offer the greatest level of support and protection to your diamond, ensuring it will last a lifetime.
Whiteflash 18k White Gold Vatche 5th Avenue Solitaire Engagement Ring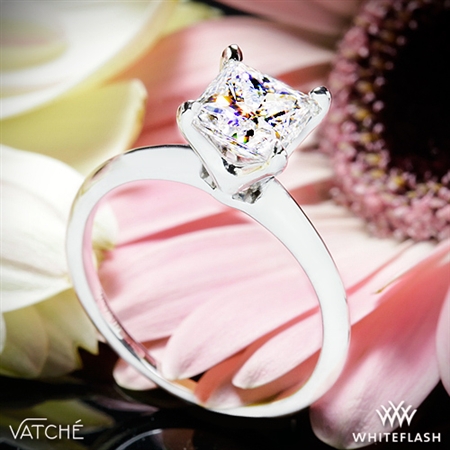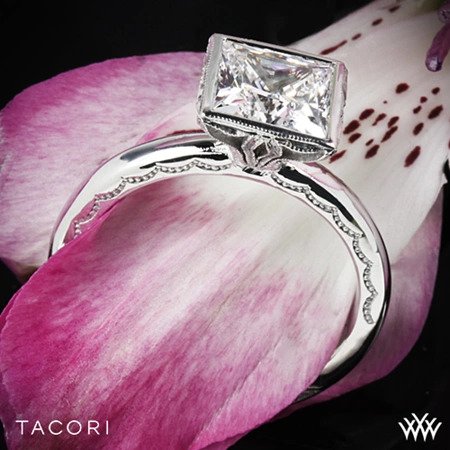 Do not let this limit you. If you are choosing from a reputable vendor or designer, a great deal of work would have been put into ensuring the settings are as secure as possible.
I personally adore the delicacy of a princess cut diamond set with subtle side stones, like this pink diamond channel setting from Leibish below, but when it comes to the style of your setting, the sky is truly the limit with this adaptable diamond.
And Finally…
Finding a VS1-VS2 princess cut will come easily; diamonds at this clarity are readily available just waiting to be set in a ring. Be sure to focus on cut quality, and do not be tempted by sub-par certification. AGS is the only certification body offering legitimate grading standards for princess cut diamonds. The intricate chevron faceting of a princess cut diamond is something to be admired, but only when it is done with the utmost care.
Keeping within my suggested brackets for grading will ensure you get the most beautiful diamond for the best possible price, then it's just a case of finding a knock-out setting to compliment your stone.