This article has mentions of products from one or more companies, and I may receive compensation if you purchase those products following reading my recommendations.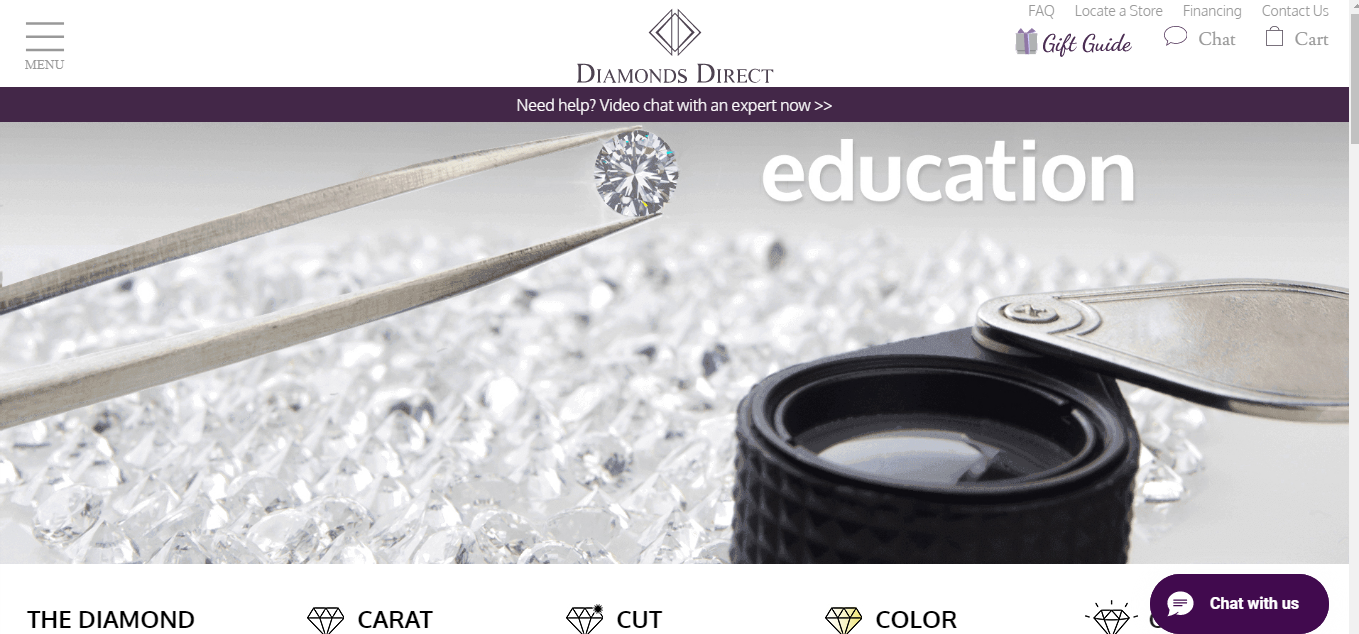 Diamonds Direct rest upon the firm foundation of a solid business model and quality diamonds. Priding themselves on reconceptualizing the diamond experience for consumers, do Diamonds Direct impress this expert diamond veteran? Let's find out.
History
Diamonds Direct have been operating since the early 90's. Their story began in Tel Aviv where they cut and sold diamonds to jewelry stores. Recognising the needs of modern consumers, the company made the decision to cut out the middle man and sell their diamonds directly to customers. They opened their first store in North Carolina and currently have 19 stores (and counting).
In 2016, Diamonds Direct were bought by Blackstone Tactical opportunities and shortly after this they acquired Diamond Doctor. The acquisition called into question the integrity of the growing company with accusations of fraud being levelled at Diamond Doctor. So far, Diamonds Direct seemed to have steered from the questionable path of Diamond Doctor and continue to operate with honesty. I hope this continues.
The company consider themselves to be innovative and customer focused, and over the past two decades they have won multiple awards that strengthen this claim.
The Diamond Quality 
As the modern diamond consumer becomes more educated and the quality of diamonds from online vendors increases, it is crucial that established companies (particularly bricks and mortar stores) keep up with the new standard. I would place the quality of Diamonds Direct diamonds as slap bang in the middle of the game.
There are elements that impress me; Diamonds Direct do provide high-res images for their diamonds, and although they fall below the standard of leading vendors (Whiteflash and James Allen, for example), customers will be able to give a reasonable examination of any diamonds they are considering. Learn more about the importance of diamond imaging here, in my complete guide.
Their website is clear and intuitive and it's great to see high-res images and diamond measurements being given as standard. But can you do better? Absolutely. The average buyer will only be able to extract a small amount of real information for the specifications given by Diamond Direct. To truly appreciate how well a diamond will perform (and how much sparkle it gives) advanced diamond imaging and light performance reports are a must.
The filter settings on the Diamonds Direct website reveal the more 'basic' approach they take towards diamond quality. You cannot filter for more advanced searches such as specific proportions or even by certification. These small touches are just one of the reasons that Diamonds Direct have not yet reached the top end of online diamond buying.
Despite this, I have no doubt that if you have a discerning eye and are confident in your diamond knowledge, you will be able to find some beautiful diamonds via Diamonds Direct.
The Experience 
A 'likeability' emanates from Diamonds Direct. Their stores are basic but the general consensus is that sales staff are knowledgeable and friendly. They also place community front and centre, showcasing local designers for a unique and varied selection of engagement ring settings. The Diamonds Direct Foundation donates thousands of dollars to women and children's charities in the local areas where their stores are located and they hold silent auctions to raise money for children living in poverty. Combine this with their warranties and guarantees (such as 30-day money back guarantee, lifetime warranty and reasonable trade-up programme) and you create a picture of a socially conscious, customer-focused company.
But likability is not always enough when it comes to purchasing something as precise, significant and valuable as a diamond. These factors must marry with exceptional quality and easy access to the finer details of that quality. This is where specialist diamond companies such as Whiteflash have the edge over Diamonds Direct.
The Final Word
If you have your heart set on an in-store experience and find yourself close to a Diamonds Direct store, they are certainly worth a visit. What their stores lack in 'bells and whistles' they more than make up for in customer service and value adding factors. They hold collections of diamonds with GIA reports and you might just find yourself a beauty.
However, you must level this decision against the quality and value that can be found online. To truly appreciate the vast array of diamond choices to be found online, I recommend taking a look at Blue Nile and their huge inventory of loose diamonds. They offer prices and volume that a bricks and mortar store simply cannot compete with. For diamonds that deliver the best possible cut quality and for a company that offers buyers an in-depth diamond education, my first choice is Whiteflash.