This article has mentions of products from one or more companies, and I may receive compensation if you purchase those products following reading my recommendations.
Kay Jewelers command a huge presence within the world of jewelry retail; owned by Sterling Jewelers (also known as Signet Jewelers), it is the second largest mall-based jewelry store chain, second only to Zales.
Signet Jewelers is a leading retail jeweler with stores in the United Kingdom, United States, Canada, Republic of Ireland, Puerto Rico, and the Channel Islands. The majority of the company's sales come from the 12 store brands that it operates in the US, including Belden Jewelers, Ernest Jones, Goodman Jewelers, H.Samuel, JB Robinson Jewelers, Blue Nile, JamesAllen.com, Jared, Le Roy's Jewelers, Marks & Morgan Jewelers, Osterman Jewelers, Peoples, Piercing Pagoda, Rogers Jewelers, Shaw's Jewelers, Weisfield Jewelers, and Mappins.
Although it is best known as bricks and mortar store in 2005, Kay Jewelers made the move to online sales with emphasis of diamond and bridal jewelry and this is where the focus of my Kay Jewelers review will be. With endless promises of low-cost diamond jewelry, Kay Jewelers advertising and marketing go to prove that if a deal seems too good to be true, it definitely is.
Summary: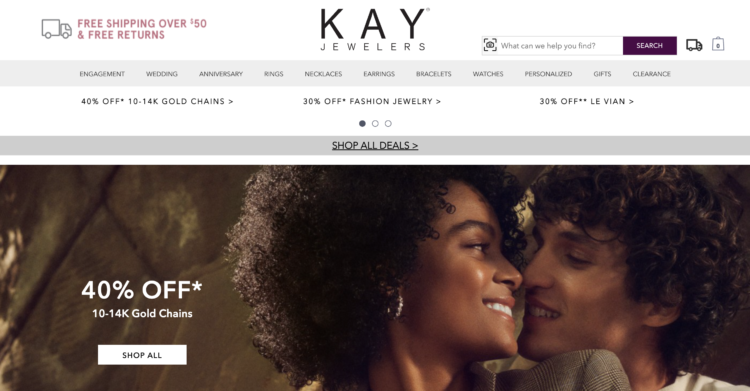 The History of Kay Jewelers
Founded in 1916 by two brothers from Pennsylvania, Kay Jewelers has become the leading jewelry brand in the United States. Starting out as a store that sold a variety of products, including jewelry, musical jewelry boxes, electric razors, and radios, Kay gradually narrowed its focus to jewelry for the general public.
Today, the company operates 1,094 stores in 50 US states and can be found in regional malls, outlet malls, and power centers. As a division of Sterling Jewelers Inc., headquartered in Akron, Ohio, Kay Jewelers makes up 41% of Signet Jewelers' sales, with 2015 sales totaling $2.3 billion and average sales per store at $2.1 million.
Kay Jewelers' Jewelry
Kays offer pre-set engagement rings, as well as a 'build your own' option. Instantly I would advise caution if choosing a pre-set ring; you will be buying the diamond blind and can expect the central stone to be of a lower quality than desired. In most instances, Kay Jewelers use diamonds of I1 clarity grade for their pre-set engagement rings, which is not a clarity grading I would recommend to anyone looking for a beautiful diamond to complete their engagement ring. It can be possible to find eye-clean I1, but they are a more challenging find and without the ability to view the diamond in the pre-set engagement rings, you run a substantial risk of ending up with a visibly included stone that you have paid a huge premium for. This issue is not exclusive to Kays, in my experience high quality diamonds are never priority in the pre-set jewelry of large chain retailers (with the exceptions of genuine premium brand such as Tiffany & Co), and for this reason I could never recommend them.
Issues still arise when is comes to the 'build your own' option for engagement rings. Kays diamonds are almost exclusively IGI certified; on average an IGI certified diamonds come in around three grades higher than their GIA equivalent. This means that if you buy an IGI diamond that is certified as a G in clarity, its 'true' grade, or the grade it would be given by the GIA, is likely to be closer to J or even a K in color.
Choosing a diamond to add to your ring is a vague process. The options for carat weight are bracketed, limited and unspecified and you are given three 'quality' options, which are 'Good', 'Better' and 'Best'. These quality brackets are determined as follows: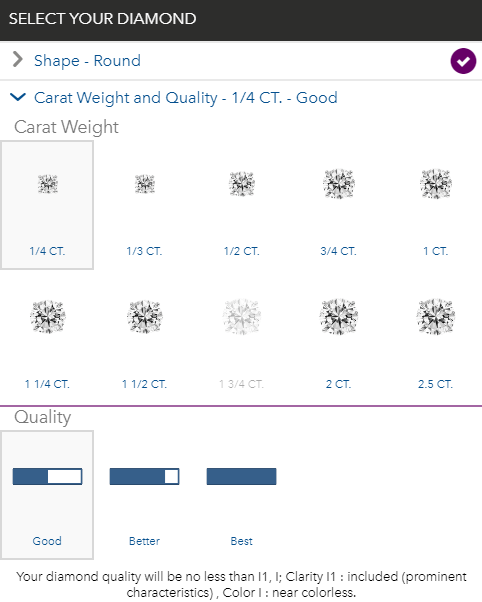 Good – The quality will be no less than an I1 in clarity and an I in color
Better – No less than an SI2 in clarity and an I in color
Best – No less than a VS2 clarity and an I in color
These bracket options tell us next to nothing about the appearance of a diamond. We know what the minimum requirements are for each 'grade', yet after going through the whole 'create your own' process, at no point are you able to specify or even find out the color and clarity of your stone. These are the absolute basics of diamond buying and Kay Jewelers are failing to meet them. I would usually review the other diamond performance reports that a company offers; needless to say, these are overlooked entirely by Kays.
The selection of settings and pre-set rings is great and there is a huge variety to choose from. The 'build your own' option allows tweaks at every stage in the creation of ring, even allowing the buyer to choose metal and mount and alter finer details on the ring such as the texture and style of the band. However, this cannot make up for the lack of information regarding the diamonds. Ultimately, if you are choosing to have a diamond engagement ring, the diamond needs to be the star of the show; it is the element of the ring which holds the value and rarity that defines fine jewelry and without it the sparkle, beauty and scarcity of the engagement ring is lost. Here is an example of some of the information they provide:
Whilst it lists the diamond as "certified" it provides no additional information about where the diamonds are certified at this stage which is worrying.
If you're looking to purchase a diamond make sure that it comes with diamond certification from an internationally recognised lab: The GIA, The AGS, The IGI etc. I would personally steer clear of Kay Jewelers and recommend Whiteflash and their A CUT ABOVE diamonds, I would also consider Blue Nile and their Astor Collection.
How To Find A Store Near You
The first step in finding a Kay Jewelers store is to visit their StoreFinder page on their website. Here, you can search for stores by entering your zip code or city and state. You can also text an expert if you have any questions about the store locations.
If you're looking for great deals on jewelry, check out the Kay Outlet Store Finder page. Here, you can find stores that offer discounts and deals on select items. You can even get help from one of their KAY Jewelry Experts if you need assistance with finding the perfect piece of jewelry for yourself or someone special.
You can also find Kay Jewelers located in many shopping malls across the country. To find your nearest location, simply search for "Kay Jewelers" on the Mall at Greece Ridge website and they will provide you with all the necessary information such as store hours and directions.
Finally, if you're looking for an easy way to pay for your purchase at Kay Jewelers, consider using Zip Co which allows customers to pay in four installments over six weeks when checking out with Zip (previously Quadpay).
The Return Policy At Kay Jewelers
For most merchandise, customers can return items within 60 days of purchase or delivery for a full refund with the original form of payment. You can also exchange your item(s) within 120 days of purchase or delivery. To get started, simply visit their returns page and follow the instructions on the screen.
Keep in mind that special orders, engraved customer designs, final sale items, and personalized jewelry cannot be returned or exchanged. Additionally, if your item has undergone significant wear and tear, it may not be eligible for a return or exchange either. For more information about returns and exchanges at Kay Jewelers, check out their FAQ page.
For online purchases from KayJewelers.com, you will need to print a pre-paid return label and attach it to your parcel before shipping it back to the store. Returns made in-store do not require any additional paperwork – just make sure you bring your original packing slip along with proof of purchase (such as an original receipt or credit card used).
No matter what item you are returning or exchanging at Kay Jewelers, the process is simple and straightforward! With detailed return instructions on their website plus helpful FAQs and even pre-paid shipping labels – shopping at Kay Jewelers is an enjoyable experience!
The Customer Service At Kay Jewelers
If you're looking for quality customer service, you won't find it at Kay Jewelers. On multiple occasions, I've experienced long wait times on calls, and emails get ignored or delayed responses. In addition, their staff are not very helpful when it comes to finding jewelry or answering questions about items.
When making an online purchase from KayJewelers.com, don't expect good customer service either – delivery dates often come and go without your package arriving, unless you call and remind them to send it out. On the rare occasion that something does need to be returned or exchanged, their returns process is confusing and can take up to two weeks for a resolution.
Overall, if you're looking for quality customer service from a jewelry store then Kay Jewelers is not the place to go. With unhelpful staff, delayed responses, and poor returns policy – there are much better options out there!
The Price
Using the 'build your own' options from both websites, I compared a 1:00ct, 'Best' Quality 4-claw diamond solitaire set in 14k white gold from Kay Jewelers with a GIA certified H-SI1 4-claw 14k white gold solitaire from Blue Nile.
The Kay Jewelers ring is $8,798.64
The Blue Nile ring is $4,785
That's a staggering difference of $4,013.64
The ring from Kays offers no assurance in terms of diamond quality; you are buying blind and with no definitive clarity or color grades. By contrast, Blue Nile offer high-res imaging and 360 videos of their diamonds, almost all of which are GIA certified. This is no an isolated incident, in fact I find Kays jewelry consistently comes in thousands of dollars more expensive than Blue Nile and James Allen time after time.
Is it unfair to make this comparison? Afterall, Kays have been a predominantly bricks and mortar jewelers for many years, so should we compare them to the global giants of e-commerce diamonds? In short, my answer is yes. My job is to advise on the best quality and price for your diamond jewelry therefore if Kays are offering an online buying option, they should be held to the same standard as their competitors.
This huge price difference is all down to the simple matter of inventory. Sites like Whiteflash, Blue Nile and James Allen all carry huge online inventories. As the diamond is not physically in their possession and the company themselves have not bought it, it is simply listed on their website. This means it can still be sold by the diamond trader and by the company, after which the online inventory is simply updated. However, bricks and mortar jewelers need diamonds to show people, meaning they need them in the stores. This means they will have to either buy the diamonds (which would total millions of dollars) or have them loaned to them for a fee. This explains the price hike between bricks and mortar stores and online vendors, but how do we explain the difference between the online prices?
Again, this is partially down to inventory; sites like Blue Nile do not have the same overheads that bricks and mortar driven jewelers do and their business model is completely focused on diamonds. This allows them to offer diamonds that are both great value and great quality. It is also to keep consistency across the brand. If someone purchased a ring in a Kays Jewelry store, only to then see they could have bought it on the Kays website for thousands of dollars cheaper it would break trust in the company and reveal unfavourable details about company profit.
Some buyers don't mind paying a small premium to buy from a well-established bricks and mortar store but if this is you, I still advise caution when considering Kays. They are considered to be one of Sterling Jewelers' premium brands, however while the prices are certainly on the premium end of the jewelry spectrum, the quality of their diamonds is well below par.
The Final Word
When it comes to the sparkle of a stone, the defining feature is the cut but this is closely followed by the clarity; as Kay Jewelers miss the mark on both of these, it is difficult for me to find a situation in which I would recommend them to a buyer.
Their selection of settings is fantastic and their website is slowly rising to the level we have come to expect from diamond e-commerce sites, however until their diamonds catch up they will remain a 2/5* company.
Make sure you get in touch with me directly for any further assistance however.
So where would I recommend to get the best quality diamonds? Firstly I would take a look at the Blue Nile Astor Collection, I would also consider the James Allen True Hearts, last but certainly not least, the A CUT ABOVE® diamonds from Whiteflash, they provide an array of diamond images and videos and these gems represent the pinnacle of diamond cut quality and light performance. They also have one of the largest selections of Designer Engagement Rings. This would be my highest recommendation.