This article has mentions of products from one or more companies, and I may receive compensation if you purchase those products following reading my recommendations.
When making an investment as considerable as a diamond, it can be reassuring to know that your purchase is backed up by generations of positive reputation surrounding a brand. After all, companies with an image to maintain have a far greater incentive to uphold that image, in order to ensure success with future customers.
Helzberg Diamonds is one such company. With over a century of diamond-selling experience, their extensive product range spans engagement and wedding rings as well as jewelry such as earrings, necklaces and bracelets.
Their expansion into the modern retail sector comes accompanied by a classy and polished website, which conveys precisely the romance and luxury so associated with the brand. But do Helzberg Diamonds live up to their reputation?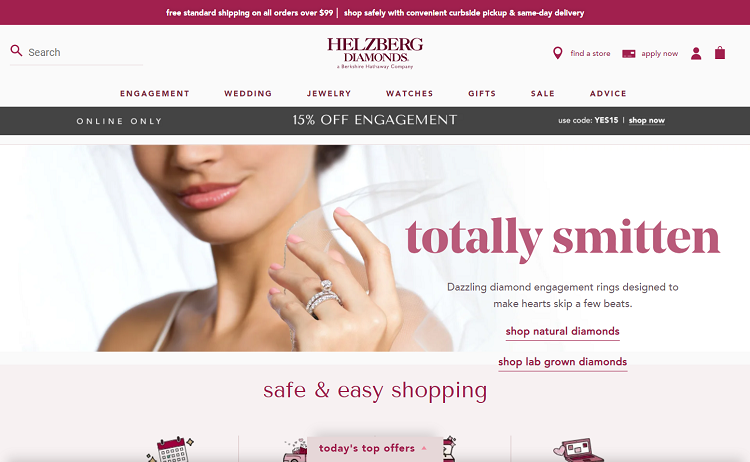 Diamond Light Performance Images
The first thing most buyers want to know when purchasing jewelry online is that the product they receive in the mail will match the picture they viewed on the website. Nobody wants to be disappointed.
With Helzberg Diamonds, you are offered a measure of security in this area. Most of their jewelry, including engagement and wedding rings, is supported by the high-quality images available on the website.
However, there is a pretty serious issue here. Most of these pieces only offer 1-3 images taken from a few very specific angles, rather than the 360-degree virtual imaging and HD videos that buyers may be accustomed to with other brands.
Furthermore, they are lacking the diamond light performance images required to truly analyze the quality of a diamond. Make sure you read my article on diamond videos and images for more information on what diamond images you need, and which companies provide them.
Furthermore, if you're in the market for a loose diamond – or using the website's Create Your Own Engagement Ring function – you will be seriously disappointed. Far from the detailed, multi-angled images provided of individual diamonds on other websites, Helzberg Diamonds provides just a textual list.
Although these diamond descriptions are accompanied by written detail, a Grading Report and a cross-section line sketch of the diamond, it's impossible to have any confidence as a buyer when you haven't even seen the stone you're dropping thousands of dollars on.
Customization Options
The Create Your Own Engagement Ring function on the website is a large part of the brand's appeal, as it offers the opportunity to create a customized ring to suit your tastes.
Once you've chosen your diamond, you can select the setting and customize any details, including selecting specific gemstones to sit alongside your diamond. The end product is displayed via virtual imaging, allowing you to see your ring as it would sit on your finger.
However, we would warn against making a purchase of this kind online, simply because, as mentioned before, there is no way to gauge the quality of the central stone without light performance images.
Signature Range
Like many luxury diamond companies, Helzberg Diamonds offers a signature collection. Theirs is called the Masterpiece Collection, and they boast that just 0.5% of diamonds qualify for inclusion, with AGS grading to back up their claims. This is a huge tick for me!
However, buyers from this range may be disappointed by the lack of other tangible data to evidence the diamonds' quality. They do not offer any Ideal Scope images, hearts and arrows images, HD Videos etc and although they provide more secure information about the 4Cs for the diamonds used in this range, there is no option to select your own stone.
Don't get ripped off by diamonds that are near Hearts and Arrows quality, for high performing diamonds with all the reports and images head to Whiteflash and consider their A Cut Above Diamonds, James Allen will also provide them on request for some of their diamonds.
Price
Unsurprisingly, a purchase from Helzberg Diamonds will set you back quite a fair amount. In particular, their engagement rings can carry a hefty price tag.
What makes this price difficult to justify is the fact that, contrary to claims of excellence, their diamonds can vary wildly in quality, with better stones available at lower prices on websites.
In general, when you make a purchase from a retailer such as Helzberg Diamonds, you're paying for the security of their reputation and the status that comes with the brand name, more than you are for the quality of your piece.
Returns and Guarantees
Like most online retailers, Helzberg Diamonds offer a 30-day returns policy, allowing you plenty of time to get your money back if you're not satisfied with your purchase. They also offer a 1-year guarantee on manufacturing defects and the mounting of your jewelry.
However, this warranty does not cover accidental wear and tear, or abuse of jewelry. It is nowhere near as generous as other brands, which may offer lifelong complimentary cleaning and replacement services.
Should I buy from Helzberg Diamonds?
At the end of the day, if you are looking for a pair of diamond earrings or diamond bracelet, Helzberg Diamonds might have something for you, however, if you are in the market for a designer engagement ring or for high quality loose cut diamonds, you would be better off spending your money elsewhere, particularly given that the website makes it so difficult to be confident in your purchase.