This article has mentions of products from one or more companies, and I may receive compensation if you purchase those products following reading my recommendations.
Costco needs little introduction. A store like no other, it truly represents the renowned standards for American customer service, offering bulk buy items on tiny margins, making for a cost-effective and enjoyable shopping experience. If you are in the market for grocery items, electrical goods or pretty much anything else you can think of, Costco is sure to shine against competitors. However, buying diamonds requires an altogether different approach. So, how do the wholesale giants measure up against traditional jewelry stores and esteemed online vendors?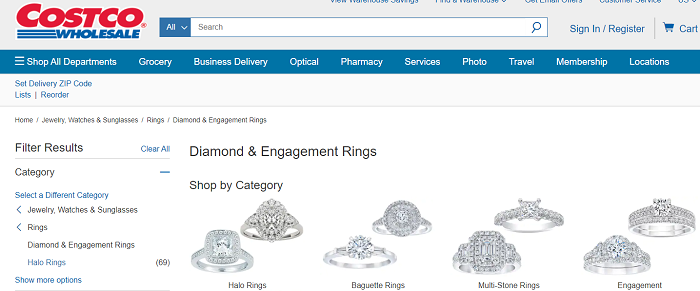 The Costco Diamond Shopping Experience
The Costco shopping experience is fantastic…if you are buying anything other than diamonds or engagement rings!
Buyers enjoy a personal experience when it comes to buying jewelry, particularly diamond engagement rings. In the past, people have shown scepticism when considering buying diamonds online, and have knowingly paid more to have the 'face to face' experience. However, as more and more people have seen the light when it comes to online shopping, so too have the bricks and mortar stores been forced to work much harder on their overall customer experience, realising that this is the only edge they have over the ever-popular online brands. When it comes to Costco, you can leave any ideas of a personal experience at the door.
The purchase of a diamond requires expert support and knowledge and Costco are not geared up to provide either of these important aspects. To put it quite simply, they are not jewelers and therefore you cannot expect their staff to provide you with the vital information you will need before you purchase a diamond.
A huge positive in the Costco buying experience is a fantastic and generous returns policy, although when buying something as special as a diamond, returns should be the furthest thing from your mind. It is better to get it right first time, however, I commend Costco for providing this safety net for their customers.
The Jewelry
Everything in Costco is big. Bulk buying, huge stores and big savings. Despite this, their jewelry selection is very small. You may find yourself incredibly limited when it comes to matters of personal style. Their website lists roughly 300 styles which is just a fraction of the designs offered by websites such as Blue Nile, Whiteflash and James Allen. You can expect an even smaller selection in store. This experience would not be suitable for buyers who have specific ideas about quality and style, as the chances of stumbling across a ring matching your criteria is highly unlikely.  
Though limited and fairly basic in design, the Costco settings which I have looked at are extremely well made and finished to a high standard. It is important to note that there is no movement for personalisation with Costco jewelry – you are buying exactly what you see. This also applies to re-sizing, re-polishing and general aftercare services. Jewelers, both bricks and mortar and online, are set-up to provide these additional services for their customers; they are specialists and know that these add ons are an important part of the overall buying experience. As Costco is not a specialist retailer, the extras are neglected, meaning that additional work, resizing aftercare etc must be carried out by a jeweler at the expense of the customer.
Quality
When I have spoken to people about Costco diamonds, there is an immediate misconception. Due to the wholesale reputation of the store, you might expect mid to low quality diamonds (for example, SI1 clarity and below, J in color and below etc) at super low prices, but this is not the case. In fact, Costco only sell diamonds of VS2 clarity and above and an I in color and above. This is a very high bracket for diamond quality, one which is usually adopted by big names such as Tiffany and Cartier. But, as we know, these gradings are only as legitimate as the gemmological institute who issued them, and this is another area where Costco falls short of the mark.
Costco do sell GIA certified diamonds, but they also sell a host of other diamonds which carry inferior certifications. It is absolutely essential that the diamond you have selected is accompanied by a GIA or AGS certificate. My study of Costco showed that some of the diamonds were listed with impressive gradings, but were certified by a lesser institute. The true grades of these diamonds came in around two places below the qualities they had been listed with. This is just one of the dangers with buying a diamond that has been certified by an institute with low grading standards (for example, IGI, Canadian Ice etc).
Similar issues arise when it comes to cut quality. A lack of information and knowledgeable salespeople means that the most important of the Four C's, the cut, is completely overlooked. Beyond the grade on the certificate, it is essential that a diamond expert takes you through the precise details pertaining to the cut. This is the only way you can be sure that you are buying a well-cut diamond. Like a needle in a haystack, you may find a well-cut diamond amongst Costco's collections (if you know exactly what you are looking for), but you certainly will not be guided there.
Certification vs Appraisal
We already know that Costco is a pick and mix when it comes to certification, but I have also seen many buyers fall into the appraisal trap.
An appraisal is given to a piece of jewelry when the stone is already set in the mount. These appraisals can be as much as double the true value of the jewelry and are given for the purpose of insurance only. An appraisal does not give an indication of quality, nor the true value of the diamond/jewelry. Those big figures on an appraisal sheet can be ever so beguiling, but the serve absolutely no purpose to the buyer. They are not issued by gemmologists or diamond experts.
Only ever accept GIA or AGS certification as valid paperwork for your diamond. Anything else is likely to be an inflated and unrealistic representation of what you have bought.
Value
You may find assessing the value of Costco diamonds a challenge due to the variability of their certification and as they do not sell loose diamonds. As an overview, Costco engagement rings come in around 25% more expensive than a cheaper online vendor like Blue Nile or James Allen when making a basic comparison. When you add into this the fact that you will have a limited selection to choose from, little to no instore assistance and a grey area when it comes to the quality of the diamond, Costco does not offer the exceptional value that it does on other, less specialised products.
The Final Word
If the stars align and you happen to stumble across your perfect engagement ring in a Costco store, you could do a lot worse. The settings are well made and provided that the diamond is GIA certified, the overall quality is good. That said, you could also do a lot better.
You are certain to find a better priced, better quality engagement ring through vendors such as Whiteflash. If you're looking for the highest quality Round or Princess Cut Diamonds then they are your best bet with their A CUT ABOVE® Diamonds. They also have a huge selection of designer settings. If you need a fancy color diamond, then I would recommend Leibish and Co or James Allen. For low budget diamonds Blue Nile is a good option.
Furthermore, these websites are specifically geared towards a diamond buying experience, meaning that matters of education, proper certification, aftercare and performance reports will all come as standard.