This article has mentions of products from one or more companies, and I may receive compensation if you purchase those products following reading my recommendations.
 

 

View this post on Instagram

 
Unlike the faceless diamond companies that we see springing up across the internet, Brilliance.com appear to give a personal approach to customers, with introduction videos and a clear, user friendly website. They promise unbeatable prices for diamonds and engagement rings together with a keen attention to quality. However, with the bar so high for both diamond quality and customer experience, can Brilliance.com compete with industry leaders like Blue Nile, Whiteflash, and James Allen? My detailed review will tell you everything you need to know.
The Company
I have used my sources and asked around about Brilliance.com but currently very little is known about them on the jewelry circuit. They have a vague introduction video that gives the impression of an 'on-site', family operation, but it would not be the first time that a company has used this clever marketing tactic to give the impression of a personable, small run company. In my experience, Brilliance.com do not seem to operate this way and there are various issues in their communication and customer service (more on this later).
The Diamonds
Getting straight into it, the diamonds are the first place where Brilliance.com falls down in quite a spectacular way. Brilliance.com offer diamonds with inferior certificates such as EGL and HRD. This is always a red flag for me; these labs (particularly EGL) are favourites of 'rack them and stack them' stores (such as Zales) due to their inflated grades. This allows companies an even bigger mark up, whilst the customer is left out of pocket with a sub-par diamond. Brilliance.com do sell GIA certified diamonds and this lab represents the gold standard of diamond reports, however to sell them alongside diamonds with shady reports is not in keeping with the Brilliance.com claims of 'attention to quality'.  Similarly, they also sell diamonds with clarity grades that go right down to SI3 and I1 – these diamonds are simply not suitable for fine jewelry.
Cut is king and quality is queen! For AGS and GIA-certified diamonds that tick all the boxes, I recommend Whiteflash. Their A CUT ABOVE® super-ideal cut diamonds offer unrivaled light performance for a sparkle like no other, I would also recommend considering the Astor Collection by Blue Nile.
There is also an issue with diamond imaging. Many of the diamonds listed are posted with a sample image, removing the opportunity for the buyer to really see the diamond before buying – it is impossible to buy a diamond online without imaging. The diamonds that are listed with images are lacking the level of technology and detail offered by other brands.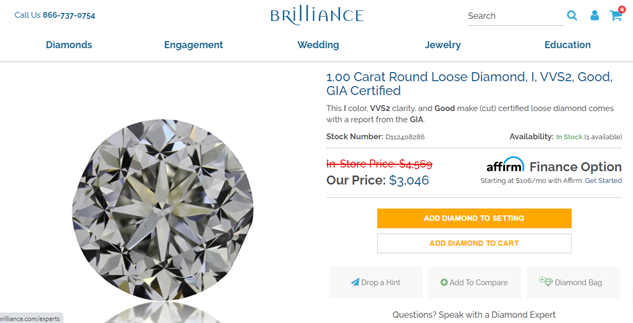 Although we can see from this image that the diamond isn't a great cut, it's not possible to truly analyse the color or clarity aspects. Sadly, this is actually one of the better images on Brilliance.com which range from non-existent to fuzzy and poor, to the image above – passable, but not great.
Brilliance.com have also been pulled up on their filter tools and search system. It is incredibly difficult for customers to search for an Excellent or Ideal-Cut diamond; despite the filter tools, the various labs listed have different standards for cut which means you will find GIA Good or Very Good cuts when searching for a top tier cut. This is confusing and time consuming.
The Price
So, we know that Brilliance.com struggle to follow through on their quality claims – how about those rock bottom prices? When you first open a search for a round brilliant diamond on Brilliance.com, the eye is somewhat tricked by what look like very low prices. A diamond for $300? Surely not. But when you consider the poor certification options and the low clarity and color levels on offer, this quickly dismisses any notion of quality/budget balance.
To use the diamond pictured above, it is a round brilliant 1.00ct I-VS2 with a GIA 'Good' cut grade, or at least that's what the title says.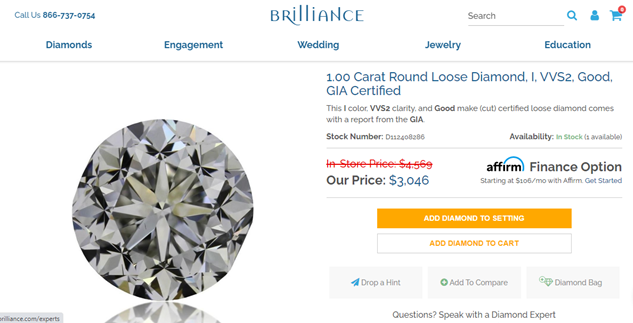 The cut itself is extremely poor and lacking symmetry. Scrolling down to the specifications, we see the cut grade is actually 'Fair'.
This comes back to the issues mentioned about filtering. It is extremely misleading. Let's consider the price. Brilliance.com use one of my most despised tactics of showing an 'in-store' price VS their price. You won't find the leading vendors doing this. It's a cheap tactic that is the same as showing an 'original' price and a 'sales' price. The diamond is $3,046. I found this round brilliant diamond on James Allen – it is a 0.90ct I-VS2 GIA Very Good cut with excellent symmetry. The diamond is priced at $2,850.
This isn't a direct comparison as the diamond is 0.10ct smaller than the Brilliance.com diamond, but I sacrificed this negligible weight to go for a better cut and a much better-looking diamond – and I still saved money in the process.
The Brilliance.com prices directly reflect the quality, or lack thereof. I find their claims of being cheaper than their competitors to be wholly unsubstantiated. You can save money buying a diamond online, but that does not negate the need for quality.
The Final Word
I wish I could redeem Brilliance.com by saying their customer service goes some way towards ironing out the errors, but sadly this is not the case. Many customers have reported huge delays in both response and delivery when buying from Brilliance.com and this is soured further by the fact that their 30-day returns period begins from the moment you pay. With diamonds taking weeks to arrive, this is not a customer focused policy and is likely to place undue stress upon your diamond buying experience.
If you're looking for high quality in stock natural and lab diamonds that are available for immediate shipping then Whiteflash is your answer. If you need a fancy shape then consider Blue Nile, but these diamonds are not for the large part not in stock, James Allen would be another option to consider, but again the diamonds are largely not in stock.