This article has mentions of products from one or more companies, and I may receive compensation if you purchase those products following reading my recommendations.
Living and working in Antwerp, I have had the opportunity to see some spectacular diamonds in all their glory. I recall being particularly struck by an exceptionally cut, 3.00ct round brilliant that I happened upon one lazy Thursday afternoon; that is the power of a truly remarkable diamond. Their magnetism and brilliance will stay with you for years.
Shopping for diamonds has changed considerably over the years and now, where budget allows, you too can own a captivating 3.00ct diamond. This buying guide will tell you everything you need to know.
How Big is a 3 Carat Diamond?
Size is expressed in millimetres; weight is expressed in carats. Cut quality and diamond shape will both alter how 'big' a 3.00ct diamond appears. Elongated shapes such as oval and marquise will give a bigger face-up appearance than round brilliants of the same carat weight.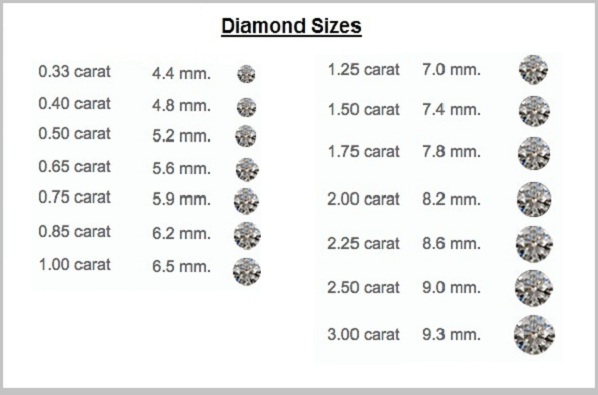 I am a diamond lover as much as I am an expert, so I can appreciate the burning desire for a big diamond. A 3-carat diamond is bigger than the approximate 'average' size for an engagement ring (which is around 1.00ct) and can make a real impact. However, sacrificing cut quality in favour of carat weight will result in a lacklustre diamond that will actually appear smaller than a beautifully cut diamond with a lower carat weight.
To unleash the full potential of a 3.00ct diamond, you must balance the Four C's.
Using the Four C's to Buy a 3 Carat Diamond
When we talk about balancing the Four C's, what we mean is finding grades ensure radiant beauty, whilst not over paying for a quality that cannot be appreciated by eye.
The price difference between a D colored diamond and a G colored is substantial, yet few people can notice a difference. Similarly, the grading of clarity is a precise process that follows specific rules about the type of inclusion and its position. As a result, it is possible to find SI1 diamonds that are eye-clean and VS2 diamonds that are not.
Deciding the quality grades for your diamond will be a personal choice based on budget and your own perception of a diamond's beauty. These are my suggestions:
Color
For a 3-carat diamond, a slightly higher color grade may be required than lower carat weights; but fear not. You do not need to soar straight to a D grade.
For brilliant cuts, any of the 'Near Colorless' grades (G H I) will fit the bill. Personally, I recommend an G for a bright white sparkle without over-spending.
Step cuts (Emerald, Asscher etc) are a little less forgiving. I recommend a F-G to ensure a reasonable spend whilst delivering a specular, colorless shine.
Clarity
Eye-clean is the name of the game when it comes to clarity. Fortunately, with high-res imaging and 360 videos offered by the best vendors (such as Whiteflash and James Allen) diamonds can be scrutinised with ease.
Inclusions towards the edge of a diamond are often concealed by settings and are therefore less problematic.
Heavy inclusions (as above) will dramatically impact upon the sparkle and beauty of a diamond, causing it to look dirty and dull. The James Allen diamond above is a 3.10ct G-I1 clarity – I would not recommend this clarity grade for a diamond of any carat weight, but even SI1 and SI2 diamonds can display unsightly inclusions.
For 3 carat brilliants I recommend a VS2 clarity grade. The larger the diamond, the more obvious inclusions become. For step cuts, begin your search at VS2 but accept that a higher grade may be necessary. Take some time to familiarise yourself with diamond imaging – it will prove crucial in your search.
Cut
While there is movement among color and clarity, there are no shortcuts when it comes to cut quality. Go for the absolute best you can afford and pay special attention to reputable vendors with in-house cut collections. My first choice would be the A CUT ABOVE® super-ideal cut diamonds by Whiteflash. Unrivalled in fire and brilliance, the strict A CUT ABOVE® criteria means much of the hard work has been done for you – and the results are phenomenal. I would also read my reviews on Tiffany and Co and Hearts on Fire.
How Expensive is a 3 Carat Diamond?
Over the years I have seen eyes widen when the price of a customers desired carat weight is revealed; in a world where celebrities sport 10 carat diamonds, the correlation between carat weight and cost has become a little lost.
This striking 3.066ct H-VS2 round brilliant by Whiteflash is part of their A CUT ABOVE® range. At $46,425 I would suggest this is an "excellent" price for a diamond of this weight and quality. For a "good" diamond, you are looking at an absolute minimum spend of $35k.
You will, of course, find 3.00ct diamonds for much less than this. Low quality cuts, inferior grading certificates and sub-par color and clarity will go hand in hand with any 3.00ct 'bargains' you come across.
The Best Place to Buy a 3 Carat Diamond
Though the bustle of a diamond quarter is undeniably appealing, shopping online will guarantee the best priced diamonds – purchased with time to browse and make the right choice.