This article has mentions of products from one or more companies, and I may receive compensation if you purchase those products following reading my recommendations.
The origins of the engagement ring are deep roots that spread across the world; from traditions dating back as far as the ancient Egyptians, to the legendary marketing campaign of diamond powerhouse De Beers in the 1940's. It is a rich historical web that has led us to the sparkling modern practices that we still cherish today.
From a solitaire style engagement ring to pavé diamonds and colored gemstones the decades before us have tried and tested styles and settings, and the modern world of jewelry continues to push those boundaries.
If you have ever pondered the symbolism of an engagement ring or wondered how these bygone traditions influence our style today, this article will illuminate some of the most significant moments in engagement ring history.
History of Engagement Rings
Rome
While there is evidence of a form of ring being given during ceremonies in ancient Egypt, the history of an engagement ring can only be reliably dated back as far as ancient Rome. The Romans believed that the 'ring finger' contained the vena amoris, a vein which led directly to the heart. Women were given two rings upon engagement; a gold ring to be worn in public, and a ring made of iron to wear while completing household duties.
Such rings have also been unearthed revealing romantic words and sentiments and even engraved symbols and images of affection. It is thought that the rings also represented ownership of a wife, a tradition that was slowly dissolved throughout the ages and left in the past.
In 1477, Archduke Maximillian of Austria commissioned the very first diamond engagement ring on record for his betrothed, Mary of Burgundy.
The Middle Ages
This period in history sees a leaning towards the betrothal ring in Catholic and Church of England practices. The ring represents a never-ending promise between man and wife. However, this part of history is less concerned with engagement, and a lot more is known of the history of a wedding band during these times than it is of an engagement ring.
One thing that we know for certain is that during these years a simpler style was favored. A plain band as a symbol of marriage. During the enlightenment period, gimmel rings and posy rings were given as a symbol of sentiment. However, they did not directly indicate a formal engagement.
The gimmel ring's design that was popular in the 1600's was two handing holding on to each other.  It is here that we see the slow transition from a plain band into something more ornate. Traditionally gimmel rings were given to both the bride and groom around the time of their engagement. They were given two rings which were then joined together upon marriage.
Victorian Era
It is during the Victorian era that we see traditions that mirror those which we practice today. During this time, brides to became to expect a formal engagement ring. Diamond rings were, for the most part, reserved for members of nobility or aristocracy to give to their intended. However, the desire for diamonds slowly reached the other members of society during this period. Other gemstones, such as sapphires and emeralds were also a favored choice for a Victorian engagement ring while the Edwardian era saw a rise in the popularity of rubies and garnets.
20th Century
The Great Depression saw a large decline in the purchase of engagement rings. Market research conducted by the diamond house, De Beers, showed the tradition of a diamond engagement ring falling out of favor with young brides to be.
Keen to reignite the passions of the public, in 1938 De Beers began what would be one of the most successful marketing campaigns the world has ever seen.
It began with an emphasis on the importance of diamond education; the Four Cs, a concept that had previously been reserved for traders and sellers was communicated to the masses through strategic advertising.
In 1947, De Beers finally coined the slogan 'A Diamond is Forever'. It pushed the durability, rarity, and precious nature of a diamond, suggesting that nothing else accurately symbolized the eternal nature of love.
Iconic 1950's Advertisements by De Beers
De Beers is also responsible for the "two months' salary" rule. Another clever marketing campaign in the 60's which emphasized the investment benefits of a diamond engagement ring.
It is the ultimate marketing success story; the perfect balance of history, emotions, and education which altered the entire concept and expectations for an engagement ring and continues to influence our choices today.
Iconic Styles
De Beers was certainly correct when they stated 'A Diamond is Forever'; our desire for diamond engagement rings has not wavered since their campaign nearly 70 years ago.
The emerging engagement ring trends also indicate our love of history and neoclassicism. We continue to create designs that echo whispers of styles throughout the ages.
Victorian Style
The Victorian Era continues to have the greatest influence on the engagement rings we see today. This is perhaps due to the vast array of styles that were documented throughout the era. The most stand out settings that can still be seen in almost every jewelry store today are the 'Toi et Moi' ring (the you and me twist) and the traditional cluster.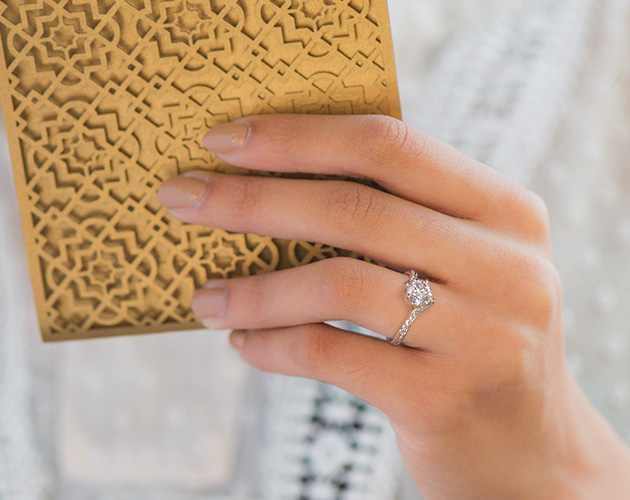 James Allen 14k White Gold Engraved Swirl Engagement Ring
This James Allen ring is the perfect reimagining of the 'Toi et Moi' ring, without straying too far from the original beauty of the style. The twists are thought to represent the joining together of two lives.
James Allen 14k White Gold Grande' Floral Diamond Cluster Engagement Ring
This James Allen ring emulates the beauty of a traditional Victorian cluster ring, which traditionally features smaller set diamonds coming together to create a floral silhouette.
Edwardian Style
If you have yearned for a ring of ornate scrolls, intricate filigree work, and cascading diamonds then without knowing it, you are coveting an Edwardian style engagement ring. Halo style engagement rings and heavy use of pavé diamonds, all set in platinum or yellow gold was the defining look of the Edwardian era.
The rise of new technology saw the Edwardian engagement rings fully embracing the endless possibilities and potentials for diamond jewelry. While the war sadly puts an end to the creative flourish of jewelers at the time, the Edwardian era produced some of the most complex and romantic designs that history has ever seen. They continue to be used by modern designers, and often with extremely striking results.
Whiteflash 18k Yellow Gold Verragio Half Eternity Halo Diamond Engagement Ring
This Verragio ring incorporates a nod to the vine and ivy designs that were popular in Edwardian rings. It has the ornate beauty of the romantic and detailed rings that preceded it.
Art Deco
Art deco continues to be one of the most notable style movements that the world has seen. Moving away from the delicately ornate styles that had gone before, art deco was all about sharp angles, strong silhouettes, and geometric motifs.
This decade saw the rise of the step cut diamond, with emerald and baguette cut diamonds perfectly enhancing the strong fashion and architecture of the era. Even among modern day collection, an art deco style ring stands out for its simple, powerful beauty.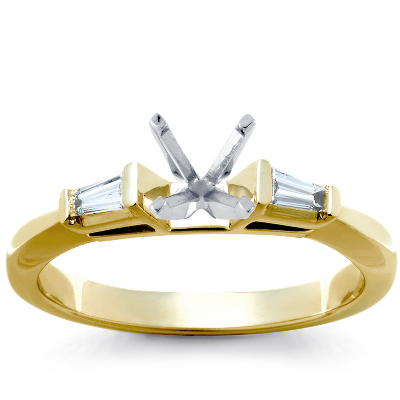 Blue Nile Studio Emerald Tapered Baguette Engagement Ring
This Blue Nile ring utilizes two of the most popular cuts of the art deco period – the emerald and the baguette. It presents the timelessly modern appearance that defined the jewelry of this inspiring era.
Feeling inspired? If this trip through history has given you some ideas, explore the further cuts and styles for your engagement ring here.
A Diamond is Forever…
It is perhaps too easy to look at the engagement ring with cynicism, as a symbol of a clever marketing ploy which we have all unwittingly fallen for. However, I would implore you to look beyond that. We have seen art and beauty spring from each era, and designs which continue to bring joy to expectant brides today. De Beers created a platform of education, which has since sprung forth, allowing you to make informed choices and find the perfect diamond.
We continue to carve our own traditions, with exceptional diamonds sitting firmly as the center of our endeavors.